With seemingly endless waves of COVID-19 barraging the nation, some schools are open, some aren't. There are also more families opting for home schooling even if their district is open. If your child is learning at home, it's essential to keep them active outdoors to help them stay balanced, healthy and happy. Check out these upsides to promoting outdoor time for your kids in this growingly uncertain world.
Staying Active is Vital for Development and Healthy Growth
Regular playtime allows the brain neurons of children to change and grow, which aids in their ability to pick up new skills rather quickly. Through free-play sessions, children can increase their knowledge about how the world works and build skills that will help them through every stage of life. Parents and caregivers can aid this process by better understanding the role of play in learning and child development — and offering their kids ample opportunities for growth through play.
Encourages Exercise & Physical Activity
It's no secret that kids in America are heavier in weight than ever before. When in school, physical education courses attempt to stave off childhood obesity. When they are at home learning, getting them up and about and outside helps burn weight-controlling calories.
Boosting the heart rate with cardio-centered exercises at least twice a week is known to boost overall cardiovascular health in both children and adults. Consider getting active with your kids to indicate its importance and your commitment to health.
Exercise Alleviates Anxiety and Stress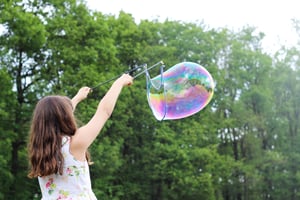 In the time of the pandemic, kids are separated from their friends and maybe even certain family members. As if that's not stressful enough, they are stuck at home inside with the same people day after day and possibly readjusting to at-home education. Kids mental health can affect the way children typically learn, behave or handle their emotions which can cause them problems on a daily basis.
Physical activity can assist greatly in reducing anxiety. Getting fresh air into the lungs increases oxygen levels in the brain that will promote relaxation. Getting pent up energy out is a great way to reduce stress.
Getting Moving Boosts Cognitive Activity
After a good workout, most people have a greater sense of clarity, focus and acumen due to enlargement of the Basal Ganglia. This part of the brain is responsible for focus and concentration. Playing video games and watching TV doesn't have the same effect as physical exercise on this thought-supporting organ but getting moving does.
Physical Activity Promotes a Good Night's Sleep
When children and teens spend all day sitting around the house glued to their tech devices, they are left with a lot of energy at the end of the day. Insomnia can be a common result. Lack of sleep tends to lead to lack of clear headedness, reduced problem solving skills, lethargy and moodiness—not good combinations with a youngster you deal with 24/7.
Improve Flexibility
Stretching the body and staying limber is pivotal in preventing injuries and keeping the body's muscles limber and flexible. The stronger and more elastic the body is, the less chance there is of succumbing to certain injuries. It's good to keep doing as many of the same activities that teens especially were doing before lockdown when possible to maintain conditioning levels.
Socially Distanced Recess—Yes! It's Possible
Children need socialization to promote their ability to engage with others and work as a team for problems solving and creative thinking. Fears can make it challenging to feel comfortable letting kids socialize.
However, a socially distanced playground design and proper maintenance can make it possible to play together while promoting safety. Some options include innovative designs that allow for small group play and those that are easy to sanitize and maintain.
Call May Recreation Equipment & Design for Safe Playground Options
If you're looking for socially distanced playground designs that clean and sanitize with ease, hand sanitizing stations, or need playground maintenance services in the Houston area, contact May Recreation Equipment & Design.