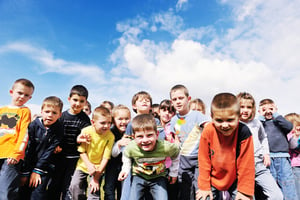 When it comes to child development, play goes far beyond simple entertainment by acting as a building block to learning. Regular playtime allows the brain neurons of children to change and grow, which aids in their ability to pick up new skills rather quickly. Through free-play sessions, children can increase their knowledge about how the world works and build skills that will help them through every stage of life. Parents and caregivers can aid this process by better understanding the role of play in learning and child development — and offering their kids ample opportunities for growth through play.
Importance of Play for Brain Development
Time spent on the playground rivals classroom time as it alters the composition of the prefrontal cortex in the brain. When this happens, the neurons at the front of the brain change and grow, creating new connections that make learning easier.
Using electrical impulses, these brain cells are responsible for sending and receiving signals through the mind and body. To transmit these signals effectively, brain cells must build strong networks of connections that allow for quick and accurate travel. Play experiences make all this possible by building up the neurons and their circuits through the brain.
As the brain changes in response to positive free-play sessions, kids have an easier time regulating their emotions, solving complex problems and creating effective plans. Although structured play looks a lot like learning, free play is actually when the brain circuits receive the most activity and growth.
Benefits of Free-Play Time
When kids have free-play time, they can build games and entire worlds using their imaginations alone. They must establish the rules of the games they play by themselves or while collaborating with others. This helps them learn how to structure their activities to have the most fun and ways to alter their approach to achieve the results they seek.
When kids are playing together, they learn how to appropriately socialize and work as a team on achieving a common goal. The learning never really stops as children engage in free play. They build an understanding of how the world and its people operate on a day-to-day basis.
Common Stages of Play through the Years
As children grow, their play styles tend to change through each developmental stage, but every last one is important. Play begins as early as birth with babies using their arms and legs to learn about their body movements.
As babies become toddlers and gain independence, they begin to play with toys on their own. At this age, it is also common to see toddlers playing alongside other children or watching their peers play without engaging in the activity.
Once they hit about three years old, kids begin interacting with each other while playing, which continues to build to reach the cooperative play stage. This stage of play continues through childhood with kids actively creating games and playing them together.
Helping Kids Learn through Play
With their understanding of the value of play in learning and child development, parents and caregivers can help ensure their kids engage in valuable playtime sessions each and every day. Ditching the structured playtimes in favor of free time can promote learning and help kids build their skillsets that will help them through life. Free play has the power to build up the brain connections that kids will rely on as their navigate through adulthood, so it makes sense to make daily play a priority.