Social distancing – it's like a never-ending rainy day, without the rain. We're not stuck indoors due to anything our kids can see and the electricity still works; thank goodness! With many adults now unexpectedly working from home and schools closed, the simple answer for an activity is indulging in different forms of screen time on repeat. But we all know the easy way out isn't always the best way.
The challenge is creating a routine but also providing activities that provide variety. Fortunately, many have risen to the occasion and are banding together to share their favorite ways of make this new normal fear-free and fun. Many teachers, artists, celebrities and everyday heroes are using social media to share their talents. Since we aren't all prepared for this sudden need of part-time homeschooling, we're grateful for these resources. It's still a good idea to balance out the technology resources, even if they are "edu-tainment."
Here are a few of our favorite indoor screen free activities:
Think of this as the ultimate staycation! Have your kids decide on a theme. Do they want to make-believe they're at the beach? Under the sea? Space? An enchanted forest? It could simply be a favorite color. The options are truly endless. Use this theme to inspire art projects, which books to read, and more. Have them dress in the "native costume" of their environment. If you have any travel size soaps and shampoos now is the perfect time to use them and turn your own home into a resort. Don't forget to take pictures just like you would on vacation.
Scavenger hunt. Start practicing for an upcoming Easter egg hunt. Hide Barbie shoes, cotton balls, pennies, hot wheels. Without a doubt you have everything you need for this activity. Objects can be all the same, or the same color which is a great teaching activity for the littlest ones. If your kids are emerging readers type or write up the list instead of telling them what's hidden. You can also just tape pictures of things on the walls or bookshelves and do a picture hunt.
Think old school. Write letters to family and friends. Ask a friend with kids to join in and set up a pen pal for your child.
Games. These take planning but the needed supplies should be easy to find around the house.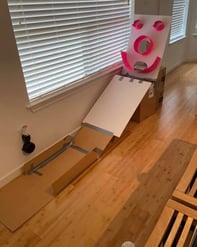 Mega Word Search. Draw words on brown paper (or the back of wrapping paper, or a cardboard box) with a big marker and tape it to the wall at your kids' level. Make sure include the hidden words on the side. This is a great activity for those learning sight words, but really is fun for all reading levels.
Skeeball. Use those Amazon and other delivery boxes to bring this arcade favorite inside!
Camp out. Or Camp in. Set up a tent in the yard, playroom, or their bedroom and change up the scenery. Side note – they might need to clean up the room first, did someone say win-win?! Pop some popcorn and get out the flashlights.
Don't forget it doesn't always have to be complicated to be fun. Kids love the simple things. Blow up a bunch of balloons and try to keep them off the ground. Put down a blanket and each lunch picnic style instead of at the table. Add food coloring to their pancakes. Draw. Have a jumping jack competition.
Good luck, you got this! We'll see you on the playgrounds soon.