With all our lives semi-permanently adjusted due to the current COVID-19 pandemic and its risk of infection, everyone needs to do their part to maintain personal health protection and social distancing. Per the Centers for Disease Control & Prevention (CDC), hand sanitizer and hand-washing are key activities that should be performed frequently to cut down on the chance of contact transfer of the virus along with masks. In this regard, May Recreation makes available an entire line of playground-specific hand sanitizer stands that can accommodate playground equipment and locations, complementing the regular cleaning of playground equipment and making sanitizing resources readily available for children.

Easily Placed in Different Environments
The beauty of the May Recreation sanitizer stands involves their ability to be placed in all types of environments, not only just indoors. The stands can either be installed permanently or used in a temporary placement fashion, providing flexibility for property managers and facilities in how they wish to provide sanitizing pumps and resources to patrons. All the stands fit an industry standard dispenser with protection. At a time when exercise, getting outdoors, and interaction matter so much more now for kids, the May Recreation sanitizer stands make it practical and easy to provide virus protection.
Avoid the Awkward Water Waste Problem
The May Recreation sanitizing stands simply make sense in a playground situation. It's ridiculous and unsanitary to expect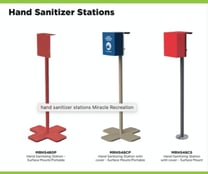 kids to try to wash their hands in a nearby drinking fountain or hope that the playground has some kind of a water spigot nearby. Doing so also potentially wastes a lot of water, especially if a child leaves the spigot turned to the on position in such situations. With a sanitizing stand, the amounts needed for protection are doled out exactly, efficiently providing contamination protection for thousands of uses before a replacement is needed. And given the durability of the stations, there's no concern about things being broken, bent, or suffering from exposure to the elements.
A Key Factor in Getting Outside Again
The May Recreation sanitizer stand is a perfect complement to our inventory of park or playground equipment, continuing our long-standing focus on fun and safety. We know COVID-19 has fundamentally changed the way people live and interact today, but that doesn't mean we all have to stop and never go outside again. With our sanitizer stands in place, playgrounds and parks can be fully enjoyed again without the risk or concern of viral contact contamination. And the more people work together in applying all the protections of masking, social distancing and hand-sanitizing, the more the current virus and others like the seasonal flu get knocked out and become less of a threat to us all.
With 25 years of experience working with all types of playground and park needs, May Recreation continues to develop new equipment and ideas that match the needs of today and tomorrow for recreation. Communities built parks and playgrounds for a reason – to give all of us the ability to enjoy the outdoors nearby and stay active. With our May Recreation equipment choices, including the sanitizer stand, people can continue to keep enjoying parks and play areas regardless of viruses or social distancing restrictions.