Normally when the days get longer and the weather becomes nicer, you'll see kids flocking to the playgrounds, basketball courts, soccer fields and more to enjoy time outdoors. Then, of course, the COVID-19 pandemic hit and playgrounds across the country were shuttered in an effort to stop the spread of the virus. Now that the country is opening back up, so too are playgrounds - and that's a good thing.
The latest science on the coronavirus indicates that playgrounds are largely considered to be low-risk environments for contracting the virus. What we know now indicates that the virus quickly dissipates outdoors, especially in heat and in sunshine. What's more is that fleeting outdoor encounters are also considered low-risk - it's the sustained face-to-face contact in confined environments that's largely associated with the greatest likelihood of spread. With all that being said, it shouldn't scare you to send your child to the local playground, court or field to burn some energy this summer. After all, it's important for kids to still be playing outside. Here's a look at why:


Active Kids are Healthy Kids
Generally speaking, the more active a child is, the healthier he or she is. Not only is playing outside fun and enjoyable, but kids who do it regularly are often stronger, leaner and more fit than those who do not. It's estimated that nearly 35 percent of kids in the U.S. ages 2 to 19 are considered either overweight or obese. And those who lead a less active lifestyle are more likely to fall into that category. Furthermore, playing outside also helps kids build up their immune system. Research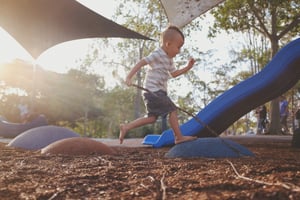 indicates that when kids breathe in plant-producing airborne particles, it can help boost white blood cell counts. This can help fend off infections and certain diseases.
It Stimulates the Mind
Playing outside isn't just good for the body, it's also good for the mind. In fact, research proves that kids who regularly play outdoors better develop their language skills as well as problem solving skills. Specifically, kids who play outdoors use up to five times more words when interacting with others than they would playing indoors or watching television. Research also indicates that kids who regularly play outdoors often do better academically and have longer attention spans. Benefits are also linked to reducing anxiety and stress, enhancing creativity and increasing energy levels.
It Gets Kids Their Vitamin D
Growing kids need their vitamins, and playing outside is a great way to soak up Vitamin D. Vitamin D is important because it helps regulate the levels of calcium and phosphate in the body - and these are important to growth and development, especially with the bones, teeth and muscles. While you can also attain Vitamin D through certain foods, it's estimated that up to 90 percent of regular Vitamin D intake is from the sun. Playing outside can ensure this.
As you can see, even in a pandemic it's still important for kids to get out of the house and play outdoors. And being that the risks of doing so are low and the reward is so high, you can't downplay the importance of having your kids put down the video game controller, turn off the TV and go play.
May Recreation Equipment & Design is a top supplier of playground equipment, shelters, playground safety surfacing, splash pads, site amenities, and related products in East Texas. Check out our website for more information.