Modern communities often talk about their "amenities." From local eats and shopping to festivals and events, the desire to create a sense of fellowship and opportunities to bring residents together help areas of town stand apart from one another.
When considering elements to add to your community's lineup, may we remind you not to skip out on this quintessential offering – the playground! Here are three reasons why a playground enhances your neighborhood.
1. They Are Learning Centers
No, you don't need to bring your textbook to the playground. Playing offers the chance for young children to develop their brains. Climbing structures are natural areas where fine motor skills such as eye-hand coordination and balance can progress. Monkey bars build strength. Children will have to use cognitive (problem solving and language) skills when playing with others and deciding on what games to play – not to mention the rules! Come to think of it older siblings may just find surrounding tables offer a fun place to do homework while younger siblings climb!
2. They Are a Place for Families to Bond
As a parent, it can be difficult to fully disengage from all the other responsibilities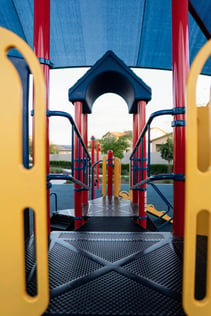 begging for your time when your children ask you to play. Of course you want to, but the dishes need to be done, and you can smell that the trash needs to be taken out.
By leaving the house and escaping to the community playground, parents are less likely to give in to other distractions and enter their children's world of play; which leads to a stronger bond. Plus.as strange as it seems, parenthood can often feel isolating. However, the playground offers opportunities for parents to create new friendships.
3. They Are Active Areas
Climbing, running, and swinging! Spending time at a playground helps kids meet the recommended 60 minutes of play a day. It can be challenging to fight childhood obesity at home; not every family has a large yard. A neighborhood playground provides a space for children and teens to use energy pent up at school all day and get moving.
Above all, playgrounds are happy areas! Being outdoors and active causes our bodies to release more endorphins; a hormone that creates a general sense of happiness and well-being. Spread joy in your community with a playground! At May Recreation, we'll help you plan.