As an adult with responsibilities at work and at home, carving out time to play may seem like a luxury you can't easily afford. But just as there are benefits for children playing outside with their peers, there's also something to be said for parents spending time with their offspring at a local park or playground.
Read on for insight into why you will want to be playing with your child.
Playtime Makes for Healthier Parents
The more physical activity parents engage in, the better for their overall health. So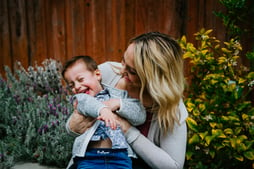 running around and playing with a kid will give you a bit of a workout.
But there are more benefits than just getting healthy from exercise. As Psychology Today reports, oxytocin levels increase when parents play with kids. This hormone is instrumental in parents and children bonding.
What's more, kids also release oxytocin as they play with their parents, strengthening the bonds further.
An Opportunity to Develop Skills
A lot of the activity in children's play actually plays a role in the skills they develop, with real-world consequences. The more you play at the playground, the more you develop social skills as well as skills in self-control.
So, kids who learn how to win and lose graciously on the playground will be in a better position to navigate the world of adulthood. Kids also learn to control themselves instead of bursting out with anger or deriding their opponents.
From motor skills development to gaining self-esteem through becoming more competent on playground equipment, there are many skills to enhance through playing with your child.
Difference Between Parents Playing With Kids and Siblings Playing Together
Sometimes parents are under the impression that children will have the same kind of experience playing with them as they would when playing with their siblings. While it's true that a brother or sister will help siblings learn how to play and have fun with the different playground amenities, it's not a substitute for parent-child interactions.
After all, parents have wisdom and experience that comes with age, so they can exercise more of their imagination, stimulating their children at the park.
Remember that kids find it fun to get their parents to play with them. It's not the same level of joy they get when hanging out with their brothers and sisters at the playground. Some psychology professionals argue that parent-child playtime is instrumental in developing new skills, while kids playing with their siblings helps to consolidate the skills, putting them to use in new situations.
How You Can Play With Your Child
You may not remember all of the social dynamics involved when kids are playing. As a rule of thumb, listen to your kids and support what they want to do at the playground. Let them explore the playground's features, from a slide to the swing set and so on.
Allowing children to draw you into their world of play will make things go more smoothly. You may compete or collaborate with them in playtime. All the while, they will see how to be a good winner (and loser) and how to act with other people from different backgrounds.
With so many benefits that come from parents playing with their children out in the fresh air here in East Texas, it makes sense to provide them with safe and fun playground equipment that is strong and built to last. At May Recreation, we are focused on providing communities with the perfect solution to their recreation and playground needs. Get in touch with us today to learn how we can help make it easier for parents to play with kids in your community.