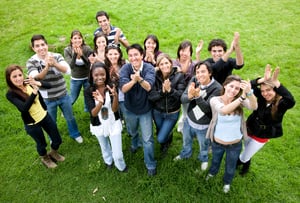 At May Recreation, we know how important communities are. There has been no time in recent history when this has been more true than during the coronavirus outbreak. Our first responders, medical professionals, local school personnel, including teachers, educators and administrators, grocery store clerks, postal employees, delivery drivers, pharmacists, garbage collectors and so many more, are putting their lives on the line to provide vital services to the communities in which they live and serve. We'd like to take this opportunity to acknowledge their efforts and to thank them for the essential care, supplies, and services they are providing to their communities during this difficult time.
Essential Employees: The Glue That Holds Communities Together
People are trying to follow the recommendations of the Centers for Disease Control and Prevention (CDC) and their local authorities. This includes staying at home and practicing social distancing in an effort to limit the spread of the disease. Without valued members of the community like these, the effects of COVID-19 could potentially be much worse.
Medical professionals and first responders are are on the front-lines every day. Whether it's an auto accident, an incident with a person suffering from symptoms of the coronavirus who needs more focused care or some other emergency, our healthcare workers are there to offer the kind of assistance that could save a life. Medical professionals continue to expose themselves in order to serve the community by offering testing, temperature checks and triage services in an effort to reduce the effects of COVID-19 while also ensuring that the community at large is safe.
Because many school systems across the country could potentially be closed for months at a time, keeping up with schoolwork is also a huge concern for many parents. Though there have been bumps along the way, many students are able to participate in virtual classes, complete exercises online or tackle printed worksheets. School districts have organized Zoom meetings, learning plans, free technology and software access for kids, free lunches for those that depended on them, and so much more. This is all thanks to the tireless efforts of teachers, administrators and other educators in our school systems.
And of course, we can't forget some of the very most essential workers of all - the ones who may not get recognized as often, but play a crucial role in supporting our community in times like these.
Grocery store clerks, who risk their health everyday to keep our pantries and refrigerators stocked with the necessary staples. Postal workers and package delivery drivers, who work tirelessly day and night delivering to us what we can't find on the store shelves. Pharmacists, who show up to work despite the risk in order to supply us with the medicine we need to stay healthy, or for some to stay alive. Garbage collectors, working diligently to keep our houses, streets and dumpsters clean for us despite knowing they'd be safer quarantined at home like everyone else.
At May Recreation, we support and thank every single essential employee in our community! With your noble efforts, this pandemic that threatened to rip our communities apart has, instead, brought us closer together. We would not be able to get through this challenge without your efforts and hardwork. We support you - and THANK YOU for supporting us. We are stronger together.