With the warm weather comes the desire to enjoy the outdoors. As much as the sunshine and warmth draw people to outdoor activities, though, it doesn't take long for things to get too hot. Thankfully, a shade structure provides a versatile and attractive way to protect both equipment -- and the people who want to enjoy it -- from the sun's rays.
The Importance of Shade Structures for Outdoor Spaces
Choosing the right type of shade structure benefits everyone that uses the outdoor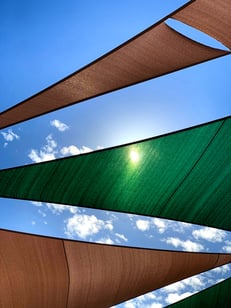 recreational space. Because these specialized structures can make the area up to 20 degrees cooler, they invite participants to play, interact and relax for longer periods of time.
Even though the sun offers benefits, too much exposure to it harmful ultraviolet (UV) rays can be dangerous. Opting for the right type of fabric for a shade structure allows the blockage of up to 96 percent of these rays.
Because the UV rays are blocked, the outdoor recreational spaces become more inclusive. The people who use them don't need to worry as much about ailments caused by the sun, such as heat exhaustion, sunburns, sun allergies and more.
In some cases, the medications and aliments children and adults must deal with make them more susceptible to the sun's effects. For example, overheating and sun poisoning could occur more easily if a person is taking medications that are often used to treat autism, epilepsy and cerebral palsy.
Shade Structures: Use Them for More Than Just Playgrounds
While a shade structure is a natural addition to any playground, there are plenty of other outdoor recreational spaces that can benefit from this versatile accessory. In fact, any area that draws people to an outdoor activity where the sun could affect their health and enjoy is an ideal place for a shade structure.
Car Dealerships -

Because purchasing a vehicle is a process that tends to take hours and involve plenty of time outside on the lot, providing customers with shade from the sun encourages them to linger.
Sport Courts - Tennis, volleyball and basketball courts provide the community with a way to stay active while also socializing. They're also the ideal place for local sports teams to hold practices and games. Opting for a shade structure provides teams with the comfort and protection they need to fully enjoy themselves. Additionally, spectators will also be more likely too.
Schools - Schools are a natural gathering place for both children and adults. While using them over sports courts and playgrounds might be the first inclination, don't forget that they work equally well for occasional events, such as book fairs, bake sales and other outdoor fundraising activities.
Pool Spaces - Today's pool areas are spaces that encompass much more than just the pool. There will be people lounging as well as getting refreshments such as food and alcoholic beverages. Providing them with a cool and comfortable place to relax, eat and gather will increase their enjoyment of the space.
Shade structures are a versatile accessory to any outdoor area. They come in a range of sizes, shapes and colors to suit your specific needs. High-quality materials, such as powder-coat paint finishes, ensure your investment provides years of use. Learn more by contacting May Recreation today!