In our industry, experts recommend doing your playground "spring cleaning" BEFORE spring. In fact, now is the perfect time to review your equipment, add new accessories or make upgrades to your existing playground. No matter the age, location or size of your current (or potential) playground, there are some general things to think about this time of year. We outline a few of those topics below.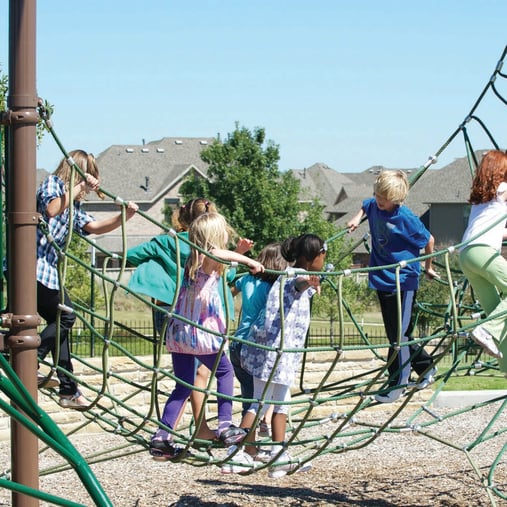 5 Things to Consider When Preparing for Spring Play
Shade – Does your play structure/area have adequate shade? This may not feel as crucial during the winter months (even though we know it's important to protect our skin all year long!), but when the weather turns warmer shade is a top priority. It not only helps protect kids and families from harmful UV rays, but it can make the playground more enjoyable during hot weather, therefore extending enjoyment and play time.
Ground Surfacing – Do you need an upgrade to your current ground surfacing? Is there another area that could use new ground cover? Ground surfacing is one of the most important features of a playground. Not only from a safety standpoint, but also when it comes to durability, compliance and aesthetics. If what's on the ground needs a refresher, it's best to take care of it before spring so you're not caught off guard.
Spring Playground Sale – Of course, another huge reason to shop for playground equipment now is Miracle Recreation's Spring Sale. Miracle Recreation is currently having a huge spring sale, with dozens of play structures and equipment on sale up to 40% off. Which leads us to our next reason…
Beat the Installation Rush – Spring is one of the busiest times for playground installation, and with such a massive sale, the season is bound to be busy! By planning early, you can schedule your installation quickly, beating the rush. Kids will be enjoying your playground sooner, thanks to your pre-planning and organization skills.
Budgeting – Different organizations have different fiscal years, but many find that they need to "get it in the budget" before the end of Q1. Others might have discretionary funds that can be used to make upgrades such as adding benches, accessories, shade or sports equipment. Consider your budget timeline when planning for a new playground.
For inspiration about new structures or accessories to prepare your playground for spring, check out Miracle Recreation's Spring Sale or feel free to contact us directly.