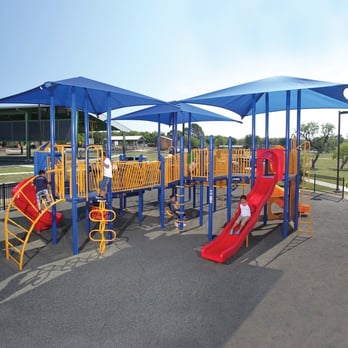 Shade structures are increasingly common these days, popping up everywhere from playgrounds, stadiums, amphitheaters, sports courts, high schools, parking lots and even car dealerships. The rise in popularity is for good reason. Not only do shade structures provide protection from harmful UV rays, but they offer many additional benefits.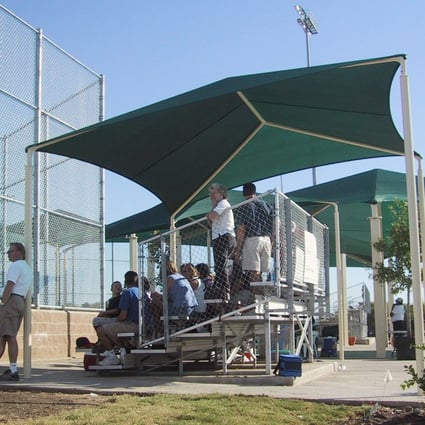 Shade structures can be installed after a project is complete, such as adding shade to an existing playground, or included in an initial project design. No mater your project, if you have an outdoor space your area will likely benefit from incorporating a shade structure. We outline six of those beneftis below.
6 Benefits of Shade Structures
1). Reduce Exposure to Harmful UV Rays – The number one reason to add shade structure is to reduce exposure to the sun's harmful UV rays. Even during cooler weather or cloudy days, the sun causes damage. Prolonged exposure can drastically increase your risk of skin cancer.
2). Protection from Elements – Not only does a shade structure protect from the sun, but it can also add a needed barrier from wind, dust, rain or even snow. For example, Shadeshure TM, one of USA Shade's most popular fabrics provides approximately 60-70% water run off. So there will be less chance that rain will deter a planned concert or event.
3). Keeps Area Cooler – A fabric shade structure allows air to pass through, keeping the area underneath cooler than a wood or metal structure (or no structure, for that matter)!
4). Extend Outdoor Time: Because it's cooler, users are more likely to enjoy the outdoors for a longer period of time. Kids will want to play longer on a playground, or families may extend their picnic if they're keeping cool under the shade. An outdoor community area encourages friends and families to gather, and they'll stick around longer if they're comfortable.
5). Equipment Protection: Shade structures help protect whatever is underneath them. For example, many car dealerships install shade structures to protect their inventory from hail. The relatively low cost is worth it to protect the cars (not to mention reduce their insurance rates as well).
6). Increases Guest Comfort Level: Shade structures are often installed for the sole comfort of customers or guests. For instance, some hospitals install shade over their parking lot, so that when patients or visitors leave they are not subjected to a stifling hot car (the last thing someone who just had surgery wants or needs!). Or if there is an area where people are sitting or standing outside for a long period of time, the shade can make them much more comfortable.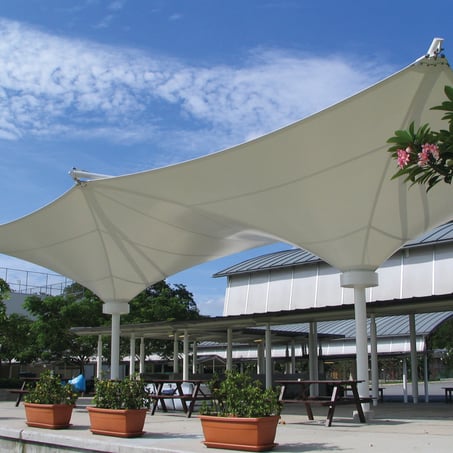 If you have an outdoor area that could benefit from a shade structure, May Recreation is happy to provide information or discuss the different shade options. We not only work with playgrounds, but we also provide shade structures for pools, parking lots, car dealerships, outdoor common areas and more. All ages need protection from the sun and deserve to enjoy the outdoors as much as possible.