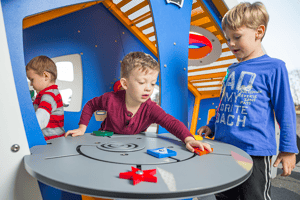 We're always looking for new and exciting ways to help you improve your playground project. That's why we're so excited to announce two new additions to the May Recreation lineup: Mini City and Miracle Museum.
Both of these product lines are designed to allow little ones to inspire, engage, and interact in a safe and meaningful way. They feature bright colors, durable construction and tons of interactive features to make your school, church, or neighborhood playground really stand out.
Best of all, they both include fun themes centered around exploration. Keep reading to learn more about these two new products and their coordinating equipment pieces.
Mini City
Playhouses have always been a favorite for imaginative play and this collection is certainly no exception. We're taking the concept to a new level with the Mini City, a collection of small buildings that keep children within easy view of caregivers while still offering a whimsical design. This style is best for those under the age of five and features eight different structures.
Designed to look like a fire or police station, the Community Helpers structure includes numerous interactive elements. Think fun additions like a doorbell, walkie-talkie, spinning hose, and others make this piece extra exciting for little ones.
The Playhouse structure offers plenty of space for free play, while the Truck is ideal for those who want to take the wheel of fun. The Garden Crawl Tunnel and Silly Tree provide plenty of space for climbing and crawling. And the Chattery offers a shady place to take a quiet break from all the action, while the Traffic Light is super fun to look through for a new way to view the world.
Finally, the Sensory Garden Wall rounds out this super amazing collection. Designed for a multi-sensory experience, this double-sided play wall includes space for two interactive inserts, available separately.
Miracle Museum
In a new era when finding spaces to play safely can be a challenge for some families, we're more than happy to introduce the Miracle Museum play collection. This exciting and innovative equipment allows the same experience of your favorite children's museum to come alive at your local park or playground.
But the most amazing thing about the Miracle Museum collection is that it does not require safety surfacing. This allows installation in a variety of areas with concrete pads, which might not have otherwise been used as a play space.
All items in the Miracle Museum collection are designed to be interactive and fun for older children. The Grand Gallery includes an angular design and plenty of interactive STEM excitement. Meanwhile, the Dynamics Lab allows children to experiment with motion, and the Odyssey Hall includes plenty of whimsical hanging tactile features. Designed for soothing quiet, the Tranquility Corner is ideal for children who might feel overstimulated and need a break. And the Momentum Corridor is all about wriggling through bars and rollers. And, if that wasn't great enough, the Miracle Museum's SpinAtorium features plenty of interactive features for hands-on learning.
Creative Playground Equipment from May Recreation
At May Recreation, we work hard to create exciting and innovative playground equipment designed to bring hours of joy. Ready for more information about how you can add the Mini City or Miracle Museum to your playground or park? Please contact us today for details.