Tavola, an award-winning community in New Caney, TX, sets itself apart with its beautiful wooded backdrop, greenbelt trails and plenty of amenities for the entire family.
Partnering to Create Tavola's New Park
May Recreation partnered with Friendswood Development and Kudela & Weinheimer (architect) to design/build their first playground back in 2014. We fell in love with the community, so we were thrilled when given the opportunity to partner with them once again to build a second, even larger one. This new playground is located near the new pool and rec center, and includes one of the latest and greatest pieces of playground equipment out there – Gravity Rail!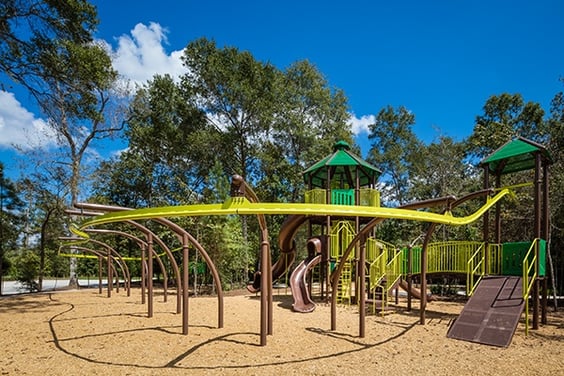 Check out this video to see it in action:
This cool Gravity Rail is an innovative new product by Miracle Recreation, designed to give children the experience of riding a "zipline" through the forest without leaving the safety of their playground! Talk about finding a great way to be unique, get residents outside, and encourage community pride.
Tavola is an Italian word meaning "table or gathering place," so it was important that their new playground align with their overall vision of bringing friends and family together. Adding the Gravity Rail was a key part of that. It's such a unique and fun piece that people are drawn to the park and can't help but smile. It brings residents together and encourages community pride.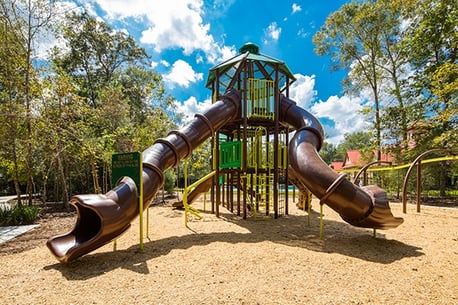 In addition to the zipline, Tavola's new park includes a Mega Tower play structure with multiple slides, a bridge and a separate swing known as Viper! You can see more Gravity Rail videos and pictures on Tavola's Facebook page.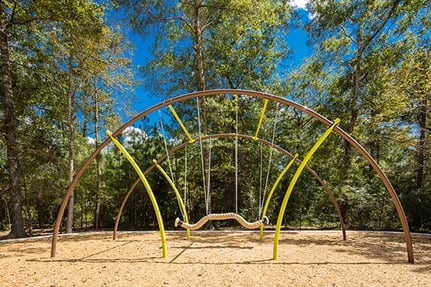 If you're ever near the Tavola neighborhood we encourage you to stop by and let your kids give this cool Gravity Rail a try! Or if you're interested in bringing one to your playground, contact us for more information. We offer free consultations and would love to help bring your vision to life.