One of the first steps when building a playground is to review and define your objectives. Is the goal to promote physical activity for students at a school? Enhance a neighborhood park to appeal to families and residents? Create a destination playground that brings people together?

If one of your main goals is to create a gathering place that gets people talking, brings them together and keeps them coming back you'll want a playground that stands out. Something different than every other park out there. Something that honors your community or enhances nearby elements. Perhaps a theme playground is in order.

Custom, one-of-a-kind playgrounds stand out from the crowd and build excitement. They're remembered. They're often a source of pride for the community, and can become a gathering place for special events. A theme, whether it's animals, music, transportation, a forest, castle, outer space or anything else you can think of, takes your playground from standard to superior.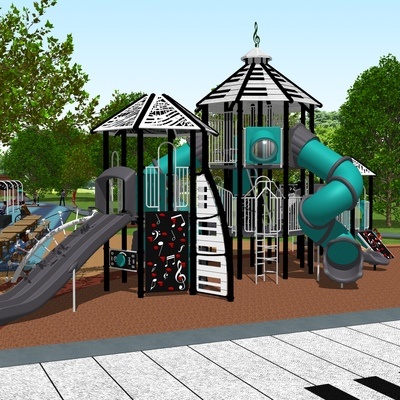 Renderings from custom Marvin Gaye Playground in Washington, D.C.
Custom Capabilities by Miracle Recreation
Some people stomp out the idea of building a custom or theme playground before they even start, assuming it's not possible or way out of their budget. But you might be surprised at what can be done for a reasonable cost, whether adding a few unique elements to complement an ocean theme or designing an entirely new structure shaped like a camel to celebrate the local mascot (you never know....).
Initial Consultation: If you have an idea for a theme – perhaps something significant to your area or community – don't hesitate to contact your local Miracle representative. You'll have the opportunity to discuss ideas and brainstorm ways to bring them to life. Have a drawing you sketched on the back of a coaster? Sure, they can work with that. Whether you have a loose idea or know exactly what you want, Miracle's custom design team can work with you to put pieces together.
Custom Renderings: Once you have the ideas and elements in place Miracle's custom department will create detailed renderings of what the completed project will look like. When the ideas are in front of you, is easier to imagine them coming to life. These realistic images can be shown to your team for feedback or approval, and then tweaked or finalized to move forward.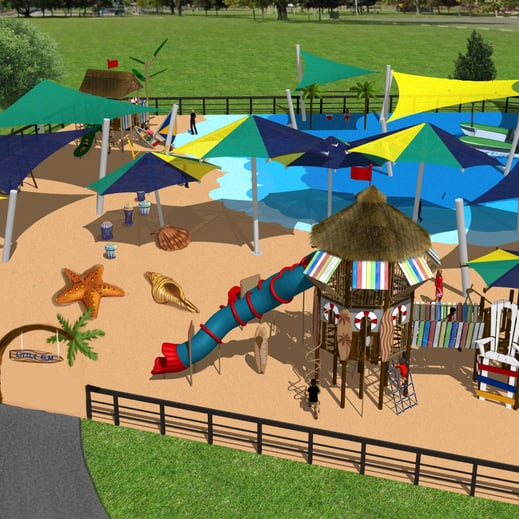 Rendering for a custom playground in Little Elm, TX
At this stage, don't be afraid to dream, research and ask questions. If you have an idea for a unique, custom playground we'd love to hear your ideas. May Recreation offers complimentary consultations, and we're happy to answer questions or provide additional information about custom playgrounds.