Miracle Museum is the aptly named new-to-the-playground-industry children's museum experience that can turn any space into a sensory rich play area. Children touch, listen, see, and play their way through the fantastical collection of products.
"When we were designing Miracle Museum, we were really focused on universal design … that means design for all, for all users," said Craig Mellott, Innovation Manager, Miracle Recreation. "It's approachable design, it's fun design, it's engaging design, it's safe, it's secure – it's designed for all."
Outside of the Box Playground Concept
Normal expectations of what playground equipment should look like do not apply to Miracle Museum. "The Miracle Museum brings together multiple things that you would not normally consider in playground equipment. It attracts individuals who may have some sensory needs and provides STEAM activities," said Dr. Tina Stanton-Chapman, Ph.D.
Inclusion was very high on the priority list for the designers of Miracle Museum.
"Inclusion is very important to us at Miracle," said Mike Sutton, Vice President of Global Sales, Miracle Recreation. "We succeeded in creating a truly universal play experience. Children of all abilities get something different out of the play here. It could be a tactile experience, an auditory experience, an action/reaction experience – it all depends on the child and what they put into it."
Clean Lines and Architectural Feel
The Miracle Museum was designed to please people of all ages with its stylistic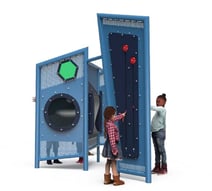 look. "With the Miracle Museum we wanted to complement our current product offerings with clean lines and an architectural feel to create an environment that engages and draws kids in," said Lauren Menezes, Industrial Designer, Miracle Recreation.
Play is an important aspect of any playground design and it was the ultimate test for Miracle Museum.
"The design of the Miracle Museum truly is driven by the play – it's equitable, it's flexible, it's simple, it's perceptible, it's tolerance of air, and it's approachable," said Mellott.
The kids had the final say and Menezes said they approved.
"There are a lot of moving parts to children's museums, a lot of kinetic play, and we wanted to make sure that we bring that to the outdoor setting. When it came to the play test it was really inspiring to see those kids interact with the events. They had moments where they didn't understand what was sitting in front of them, but they were curious. And as soon as they started to experiment with it you could see that joy spark as soon as they figured it out," Menezes said.
Components of Miracle Museum
Like any good children's museum, Miracle Museum is divided into different sections that focus on specific senses. The components include:
Grand Gallery: Interactive features and room for individuals using a wheelchair or other mobility device, Grand Gallery is social fun for all. Schools, especially those with a focus on special education or STEAM/STEM, would benefit from it.
Dynamics Lab: Experiment with motion—from the Pin Impression to the Jingle Drum. Test out the basic laws of mechanics in an exciting play setting.
Odyssey Hall: Sensory walking path packed with fun, tactile features. Hanging flex treads provide deep touch, while vertical roto panels provide texture and color variety. The twisting treads enable multiple play paths, giving children a proprioceptive experience. A wheelchair path ensures everyone is given the chance to explore.
Tranquility Corner: Soothing space for children who might be overstimulated by busy playgrounds. Colorful features provide a focal point that becomes a retreat for children.
SpinAtorium: Spin the earth while enjoying soothing sounds made by beads. SpinAtorium is easy to spin, and its map of the world create opportunities for conversation and learning.
Momentum Corridor: Unique rolling experience; with overhead bars, kids are able to pull themselves across the full length of this roller table, so they can enjoy a tactile event with gentle bumps.
"It was exploration, and it was learning, sensory learning, and sensory exploration. It just offered opportunities that you're not going to see on a regular playground," said Paula Gibson, OTR/L, co-owner and co-director of Brighter Futures Therapy Center in Somerset, KY.
Contact May Recreation today to find out how you can incorporate Miracle Museum into your East Texas playground.