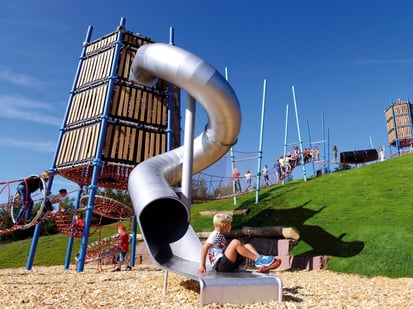 May Recreation is pleased to announce a recent partnership with Berliner Play Equipment, a German company with an international reputation for quality and unique design.
Berliner Play Equipment
Berliner's roots go all the way back to 1865, when a company producing ropes for the Berliner elevator industries was founded. The quailty of these ropes earned them lasting and worldwide success. In the 70s, Berliner Seilfabrik used their ropes to create the first net stuctures for climbing equipment.
Today, after 40 years of combining their extensive rope manufacturing knowledge with playground equipment industry, Berliner has national and international patents on the majority of its products, and has been recognized by the German, European and American standard committee for sport and leisure equipment
Randy May, owner of May Recreation, explains, "We're thrilled to bring Berliner's unique line of products to our market. Because of their high quailty, commitment to safety and unique design, they are a great fit for us and our customers. We're excited to work together on future projects in East Texas."
Vist Berliner Play Equipement to learn more about the company's history and products, or contact May Recreation for information on how to incorporate the unique structures to your playground project.