Childhood is a time for learning and developing skills that will benefit kids as they grow up. For many kids, the playground serves as their very first classroom, giving them a chance to learn social skills and gain excellent problem-solving abilities. Beyond that, each type of specialized play equipment helps kids develop fine and gross motor skills of all kinds. Here's how that works.
Difference Between Fine and Gross Motor Skills
Through each developmental stage, kids start to build both fine and gross motor skills. Fine motor skills engage small muscle groups, like in the hands, allowing children to button their jackets, write with a pencil, and use utensils to feed themselves.
Gross motor skills, on the other hand, often use several large muscle groups in tandem. Learning to jump, for example, involves the simultaneous use of the muscles in the legs, arms, and core.
Kids need to develop and strengthen both their fine and gross motor skills to engage in many different activities throughout life. Thankfully, regular trips to the playground can help them do just that while having a whole lot of fun.
How Motor Skills are Built on the Playground
Modern playground equipment is designed to help kids learn new skills and strengthen existing abilities without even thinking about it. As they climb, slide, and jump to their heart's content, their muscle memory grows, giving them the ability to try even more challenging tasks.
Each type of equipment on the playground promotes gross motor skill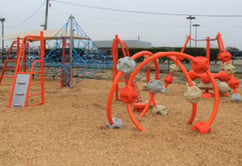 development in some way, such as:
Climbing Ladders: Builds strength, boosts hand-eye coordination, and improves balance
Slides: Gets kids to use their core to stay upright and control their speed on the way down
Swings: Encourages balance work while helping kids learn how to move their body to gain speed
Bridges: Requires kids to work on using multiple muscle groups to balance while going across
Monkey Bars: Increases upper body strength while boosting coordination rung after rung
Fine motor skills are built at the same time, giving kids the ability to improve their abilities in leaps and bounds with every trip to the playground. As they grasp the ropes on the ladder, for example, their grip improves, which will serve them well as they learn how to write, use utensils, and even turn doorknobs.
Since many playgrounds are built with pretend play in mind, the special activities along the main features can help build fine motor skills as well. Tic-tac-toe boards allow kids to spin the blocks and build coordination in their hands. Playgrounds with pretend pirate ships have steering wheels, levers, and the works, which give kids the ability to master small movements of all kinds.
Make Playground Visits Easier Than Ever with May Recreation
If your community does not have a playground nearby, then you can take matters into your own hands and build one with help from May Recreation. We can help you design and build a playground that perfectly fits your space and helps kids develop strong motor skills. Our team can even help you find your ideal financing option to help the project fit into your budget. To get started, simply give us a call at 800-964-6301 today.