Earlier this month the City of Deer Park held a Dedication ceremony at the newly renovated Nedith Park.
May Recreation's Jeff Bratton consulted with the city on the project and attended the dedication event. "It's always rewarding to see a vision come to life," Jeff said. "The end result to is something this community can be proud of, and provides a safe and fun place for residents and visitors to enjoy the outdoors. "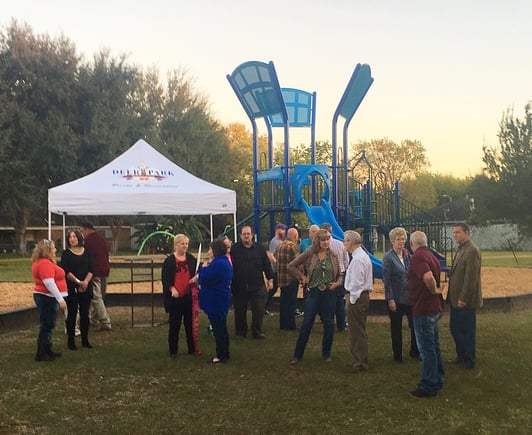 Park Features
Deer Park wanted to update an outdated structure to better serve the needs of its residents. Jeff worked closely with the Parks and Recreation department to help determine the best design for their needs and budget.
One of the elements that attracted them to this particular structure is the shade panels included in the design. Shade is an important consideration for playgrounds, and Deer Park took this into consideration. Not only does the shade help protect users from harmful UV rays, but it also makes the equipment more comfortable and can extend the playtime for users.
If you live in the Deer Park area stop by and visit Nedith Park located at 3717 Nedith Street!
And if you'd like more information about playground structures with shade panels or other shade options contact us today!