The playground you set up for children at your daycare center should be designed to meet a wide range of needs for growing kids. Of course, you want to create a fun place that will encourage children under your care to play and get exercise (and enjoy plenty of fresh air and sunshine), but it also needs to encourage learning and socialization. That's what's best for promoting early childhood development.
Here are some considerations for you and your team as you evaluate how you'll set up a playground for the children.
Accessibility
It almost goes without saying, but remember to establish a playground that ensures everyone enjoys equal access. You can design and build or upgrade a playground that addresses the abilities of children of any age and ability. Differences in developmental needs should not exclude anyone from using the environment.
Age
What is the age range you anticipate for children at your child care location? Begin by thinking of the average range of kids so you can build a playground that will be appropriate for most.
For example, if most of your kids are aged 6 months to 2 years, they thrive in playground that help them boost their motor skills and power. Older kids aged 2-5 are starting to use their imagination, so they will do better when your playground tests their agility, strength and motor skills development.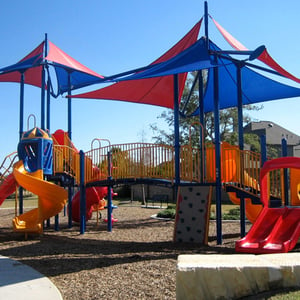 Environment
What are the unique environmental conditions at your child care? Think about how much sun exposure there typically is and what the average temperature has been during each season. The climate will affect your need to provide shade, what materials to build things from (wood or metal, for example) and what kind of seating is required.
Equipment
The age range of kids you anticipate using the playground will affect what kind of equipment you set up. Options range from such tried and proved amenities as monkey bars, ladders, slides and swings. The development and growth of children is connected to their access to a rich and varied environment with plenty of things to play on as they interact with one another.
Seating
Outdoor seating is a must, but just how much will you need? Calculate the rough number of kids who will want to sit down and take a break during playtime. But you should also include room for parents and teachers who need to rest as well. Make sure you include seats in areas that are shaded as well as places in direct sunlight, for maximum effectiveness.
Shade
The unforgiving sun makes dedicated shade systems a necessity in many locations. There is a health risk if shade is unavailable, especially in hotter locations in the greater Houston area. Place shade systems strategically throughout the play area to protect kids and the adults looking after them.
Traffic
There can be increased traffic at your playground if you also allow access to kids who are not enrolled in the daycare program. So, while the primary design should address kids in your targeted age range, you might want to consider including features that also appeal to older kids whose parents want to bring the whole family to a playground.
Get Expert Advice on Addressing the Needs of Your Playground
Keeping children safe and secure while also seeing to their needs to socialize and engage with one another is of the utmost importance. You and your colleagues may have questions about setting up a safer place to play, designing socially-distant options for the playground or after care program in Houston.
To consult with our experts about playground maintenance services, adding hand sanitizing stations or about designing a new playground that's easy to maintain and clean, please connect with May Recreation Equipment & Design today.