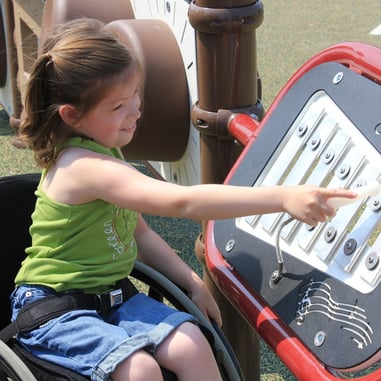 May Recreation believes in the benefits of inclusive play – but not everyone sees or understands the true advantages that back our beliefs in an inclusive play system. There are so very many reasons why inclusive play is beneficial, you'd be here all day if we tried to talk about them all! So, for the sake of time, here are the basics.
5 Reasons to Build an Inclusive Playground:
Developmental Benefits. Inclusive playgrounds allow all children to reap the developmental benefits of active, physical play. Children are constantly growing and learning; their brains start developing in the womb and they continue to develop through adolescence. Physical play is an important part of every child's brain development – it helps with social skills, motor skills, problem-solving, decision-making, language development and general interaction with a child's environment. Multiple studies have shown that physical play benefits children's physical, cognitive and social development, giving them a higher level of self-confidence and keeping them healthier overall. This is true for all kids – whether they have disabilities or not – so shouldn't all kids have an equal opportunity to partake in physical play at local parks and playgrounds?
Encourage Creativity. Inclusive playgrounds encourage creativity and imagination by engaging the mind with sensory-rich activities. The inclusive elements are versatile, allowing them to be used in a variety of ways by different users, depending on their needs and abilities. Texture, sound, color, accessibility – all these elements create a much more layered, imaginative and enjoyable experience for all.
Stand Out from the Crowd. Most parks you see these days have all the same, basic, non-inclusive equipment. Who wants to play at a basic playground when you can play at an incomparable new playground that has elements you don't see everywhere else? Inclusive playground equipment is unique and creative, making it more interesting and fun for kids to interact with.
Promote Diversity. Inclusive playgrounds promote tolerance, acceptance and diversity in our children. Giving all children the opportunity to play side-by-side, interact with each other and learn from one another will help introduce them to diversity at a young age. For a kid to engage in play (or even just watch) a child in a wheelchair having fun and participating on the playground, that can change his perception of someone he would normally look at as "different" than himself.
Create a Sense of Community. An inclusive playground is one where people of all ages and disabilities can come together. Kids, kids with disabilities, adults with disabilities, caretakers of people with disabilities and even elderly people can enjoy an inclusive playground. This inclusiveness creates a sense of unity and kinship that is instilled in the community and its people.
For more information on inclusive playgrounds or any inclusive playground elements, contact us today. May Recreation offers complimentary playground consultations, and we would love to talk with you about your inclusive playground needs.