You form a committee... assign tasks... do your research... choose a supplier and then purchase your playground equipment. Many may feel that is the end of the process. However, that is only the beginning!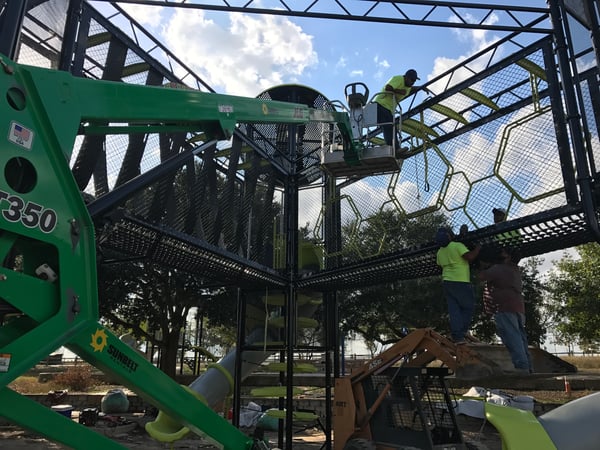 What Else Do I Need to Consider?
When planning a playground, there are many other things to consider, such as:
What type of protective surfacing should we use? Engineered wood fiber (mulch), pour-in-place (rubberized), turf grass (synthetic), loose fill (rubberized mulch)? How will we keep the surfacing in place under our new playground? Plastic border timbers, raised concrete border, concrete walkway? Will we need drainage? How do we prepare the playground area? Do we have any noise concerns that will determine placement of the equipment? These and other questions need to be addressed prior to receiving your new playground equipment.
The purchase of an otherwise quality product is only as good as the company that will serve as your consultant in the design phase and as the project manager during the installation phase of your equipment.
The questions mentioned above, along with a multitude of others, can and will materialize and you need to be working with a Team of Experts. Pay particular attention to the following:
Length of time the company you choose has been conducting business
Past performance with products and services included in your project
References from past customers
Length of time your company contact has been in the playground industry
These may seem obvious to most, but the fact is, most people do not take near as much time researching the consultant/project managers as they do the equipment.
As we celebrate our 25th year, we ask that you research our company and Team Members. We sincerely believe our experience will enable you, and all those associated with your project, to have a rewarding experience in providing a safe and fun environment for everybody!
To help keep your playground process organized and make sure nothing slips through the cracks feel free to download our complimentary Playground Planning Guide or contact us directly to discuss your project.