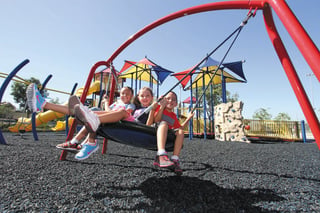 Is your playground in need of some serious TLC? You don't have to use your whole budget and build a completely new playground; making some small updates can make a big overall difference.
Here are some easy ways to update your playground:
Focus on the part that needs the most attention first. If there is any broken equipment, fix or replace it. Is there a section of the play area that doesn't get used very often? Consider replacing that equipment with something that would be more popular.
Upgrade the surfacing. Who likes wood chips stuck in their shoes, let me see a show of hands?! Wood chips are also hard to maneuver for children who use walking devices or wheelchairs. Replacing wood chips with turf makes the play-area more accessible/maneuverable for kids who need walking assistance, but also more comfortable for typical kids to run around on.
Splurge on a few inclusive pieces. If you're spending money to update your playground, make it worth it. After all, playgrounds should be usable by all children. If children with disabilities have to sit and watch all the other kids play and have fun, it's just not right. Upgrade your playground to have inclusive pieces so all children can feel included and reap the developmental benefits of outdoor play.
Modernize with technology. Technology is a big part of our daily lives. It's becoming harder and harder to get kids away from the screens and outside to play – so why not update your playground with Biba Smart Technology? Smart play involves incorporating specifically designed apps to enhance the outdoor play experience – and one of these apps is specifically designed for inclusive playgrounds. This allows kids to be physically active at the playground while still having the thrill and challenge of online gaming.
Focus on details. Add a new coat of paint where needed. Bright and colorful will be a hit with the kids, especially any who might rely more on sight than the typical child. Add landscaping that is both visibly pleasing as well as pleasant-smelling. Add a bench or other form of seating in the landscaped area. This creates a quiet, relaxing space for the kids to rest or for parents/caregivers to sit.
For more information on inclusive playground equipment or any other park or playground equipment, contact us today. May Recreation offers complimentary playground consultations, and we would love to talk with you about your playground needs.