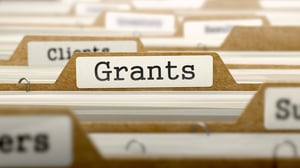 Adding a fantastic play structure to your Texas church, school or park is easy thanks to our wonderful May Recreation team. However, one of the biggest hurdles most of our clients have to overcome is funding. Thankfully, there are many options out there. Here are five amazing resources for finding funding for your playground project.
#1: Walmart Community Giving Program
One of the biggest and most charitable organizations to help fund your new playground is Walmart. The Community Giving Program accepts applications from February to December each year. Grants range from $250 to $5,000, depending on meeting a specific set of criteria guidelines. Any K-12 public or private school can apply, plus some church and faith-based organizations with projects that specifically benefit the community as a whole. Applications are handled solely online and program requirements can be found here.
#2: Kellogg Foundation Grant
Power up your playground project with a grant from the W.K. Kellogg Foundation. As the philanthropic branch of the famed cereal conglomerate, the organization has helped dozens of communities with projects ranging from $5,000 to over $250,000. Applications are accepted throughout the year via a simple online application and reviewed by committee as they are received. A full list of requirements and a description of the application process is available at the organization's website.
#3:

KaBoom

Grant Programs
If you're searching for the perfect grant program for your play center project, look no further than KaBoom. The organization offers a multitude of options to assist in funding, including the Build It Yourself Grant which offers up to $15,000 to fund your local school or church playground project. Best of all, KaBoom works with other organizations and corporate sponsors to increase the grant pool and provide many more opportunities in cities across the country. Learn more about the program and all available grants via their website.
#4: Meet Me at the Park Program Play Space Grants
The Meet Me at the Park Program's Play Space Grants are an ideal way to fund your playground project. The partnership between Disney and the National Recreation and Park Association (NRPA) helps local communities add play structures to existing parks. While the application period varies from year to year, they helped dozens of organizations in all 50 states in 2018. To learn more about the program, click here.
#5: Shade Structure Program
Creating a great place for kids to thrive doesn't end with playground equipment. The American Academy of Dermatology sponsors a program designed to provide shade structures for local parks and playgrounds to make enjoying a sunny day a safe and enjoyable outing for all. The grants range in amount but can be as large as $8,000, depending on need. In order to qualify, applicants must demonstrate an ongoing commitment to sun safety within the organization or have a skin-cancer-awareness program in place for a minimum of one year before applying for funding. Find out more about this amazing program here.
For more information on Playground Grants, or to download a free Playground Grant Resource Guide, you can visit Miracle Recreation's website.
Are you ready to learn more about installing a playground structure at your school, church, or park? Contact our team at May Recreation today to learn more.