Playgrounds are wonderful places where kids can make friends, get some exercise and foster their development while having fun. Anyone who has been tasked with creating a toddler-friendly playground in a recreational park, school, church or other public space is likely to need a few tips on what they need to consider when planning one. Our experts at May Recreation offer these tips for organizing and planning the perfect playground for toddlers.
Determine the Budget
There may already be a set budget in place by the facility or organization sponsoring the construction. If not, determine how much funds can be allotted to the project. Then, the playground installations can be chosen that fit into the budget along with installation and any necessary landscaping. If the budget is short, consider a community fundraiser to add to the allotted funds! However, our team here at May's Recreation does offer financing for those who qualify.
Consider the Community's Needs & Wants
It's important to keep in mind who the playground is being built for, and toddlers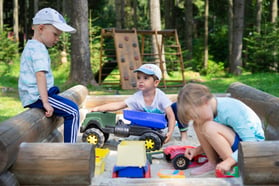 have certain limitations that should be considered when designing the installation and choosing equipment. Toddler playgrounds will need to be planned for kids between the ages of two and five. Beyond that, the playground should meet the needs of the population it will serve. A setup should be planned depending on how many people will be using it, which will be different for a small daycare versus a large public park.
Foster Creativity and Interest
When designing playgrounds for toddlers, one of the most important design factors is ensuring that it is constructed with features that have their interests and needs in mind. Choose equipment that boosts their self-confidence, stimulates their imagination and encourages them to engage with others. Be sure to select inclusive pieces that allow for safe play for toddlers with a range of developmental and physical abilities.
Select Protective Safety Surfacing
While having a few swings, ramps and fun slides is almost a given in a toddler playground, don't forget that accidents, falls and trips are bound to happen from time to time. This is why it is necessary to prioritize the surface that the installation will be situated upon. There are several surface types that can help absorb the shock of falls. Common choices are synthetic turf, rubber mats or chips, or mock mulch.
Plan for Extras Around the Playground
One thing that many forget about is that there will be a need to maintain the playground with periodic cleanings and occasional repairs. Other extras that should be planned for may include landscaping to provide shade and foliage to add beauty.
Benches where onlookers can sit are always a nice perk, and are great additions beneath shade trees. Toddler playgrounds that will be in public parks might want to include additions like fencing, picnic tables, fountains, and a bike rack. These extras benefit the community by promoting the space as a place to commune with friends and family.
May Recreation is the Ultimate Planner & Provider of Playground Equipment
Here at May Recreation, we have more than 25 years of experience in designing playgrounds and even offer installation within our service range in Houston, TX. We use CAD design tools to assist in creating the perfect toddler playgrounds and offer financing, too. Contact May Recreation online today, or contact our representatives at 800-964-6301.