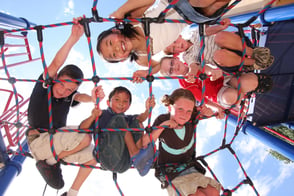 When you look back on your childhood memories, what comes to mind? I'm sure there are memories with your parents and memories from school that come to the front of your mind, but what do you remember after that?
If you're like the majority of other Americans, most of your fondest memories are of playing outside – whether it was on a playground or just exploring nature. You see, back in the day we didn't have computers and iPads to keep us inside. We didn't have computerized, interactive toys and social media platforms. We had non-interactive toys, screenless phones that plugged into a wall and the great outdoors.

Technology has given our society so many advantages, but too much time spent engaged with technology can be detrimental to our children's development. Not only do kids need fresh air, sunshine and exercise to live their healthiest lives, but they also need the creative and sensory input that comes with free outdoor play.
Here are three big ways that outdoor play helps children develop:
It engages all the senses. When playing outside, whether it's on a playground or just in nature, children are fully engaging all their senses. They experience different textures and sensations with bare hands, feet and face – cool breezes blowing, warm sunlight on their skin, soft grass under their feet, the different textures and materials of the playground under their bare hands. The uneven ground or lumpy mulch challenges them to balance. Climbing, swinging, hanging and running challenge them to use their joints and muscles more thoroughly and in unusual ways. Even their sense of smell is engaged with whatever smells are carried by the breeze that day. Fully engaged senses help refine their sensory and motor development.
It tests physical limits. We've all seen kids on the playground – they get a little crazy (in a good way!) Children exert themselves during free play – running, climbing, jumping, rolling, crawling, swinging, squatting and more. On the playground, they get caught up in the moment and end up pushing themselves a little farther than they normally would. All this activity essentially doubles as cardio and strength training for kids. It helps with muscle development, coordination, body awareness and endurance, and it's also a great form of aerobic exercise.
It teaches social skills and emotional control. If you really pay attention to a group of children playing, they are constantly communicating, collaborating, compromising, bargaining and problem-solving. They learn how to negotiate for how/what they want to play, and they learn how to best communicate with others. They practice making decisions and learn the consequences – good and bad – that come with those decisions. Emotionally, they learn how to deal with anger and resolve conflicts. Creative, physical, outdoor play teaches children valuable life skills on how to function like an adult.
Our communities, neighborhoods, churches and schools need good parks and playgrounds. Our schools need to stop shortening recess. Our children are our future and they need these experiences in order to develop into their full potentials and grow into well-rounded, healthy adults.
If you are thinking of building a park or playground, we'd love to talk with you about your ideas and specific playground needs. Visit our website or contact us today to talk with a specialist.