If you are in charge of building a new playground or ordering playground equipment for a daycare or school, one of the decisions you may be facing is deciding whether to order a shade structure to go over the playground. A shade structure helps to block out the sun's ultraviolet rays, shielding kids and playground equipment from the sunlight.
Learning about the benefits that shade structures have to offer can help you decide if it is worth investing in one for your playground equipment. Here are a few of the benefits.
Helps Keep Playground Equipment Cool
One of the biggest benefits associated with installing a shade structure over a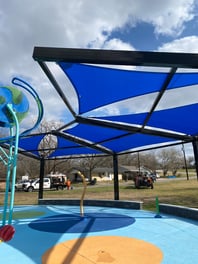 playground is that the shade structure helps to keep playground equipment cool. Metal monkey bars, poles and ladders can all become extremely hot when they are exposed to sunlight and heat. Even plastic slides and tunnels can become uncomfortably hot as well. When you shield the equipment from the sun, you help to keep it cooler. This helps to prevent injury and ensures children can play on the equipment, regardless of the time of day or the outdoor temperature. If you live in a part of the country that has extreme temperatures in the summer, a shade structure may allow children to play on the equipment year round, instead of having to avoid it due to the heat.
Helps Protect Children From the Sun
Another major benefit associated with installing shade structures over playgrounds is that the shade structure can help to shield children and adults from direct sunlight. Playground shade structures help to block UV rays from the sun, which ultimately can help to protect those under the shade from sun exposure and painful sunburns. A shade structure can also help to make your playground more inclusive. Some people are sensitive to the sun and cannot stay outside for prolonged periods of time. They may have sensitivities caused by medication or for other reasons. Regardless, shielding the playground allows those with sun sensitivities the opportunity to play outside or supervise their children without being directly out in the sun.
Helps Keep Your Playground Equipment Looking Its Best
The final benefit associated with installing a shade structure over playgrounds is that the shade structure can help to keep your equipment looking its best, while also helping it to last as long as it is designed to last. While playground equipment is designed to be used outdoors, it still can begin to fade, rust or wear down as it is exposed to extreme heat and sunlight year after year. This can make it look old and unkept. Installing a shade structure helps to block the sun's UV rays, which helps to shield the equipment and protect it against sun exposure. This can help its colors stay more vibrant and help it look its best for years to come.
When you are looking for new playground equipment, including shade structures, May Recreation Equipment & Design has everything you need to create the perfect outdoor space. We can help with everything, including project design, financing and installation. Reach out to us today to learn more about our equipment or to work with one of our professional CAD designers to get to work designing the perfect playground for kids within your community.