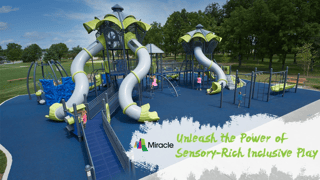 "Inclusive" is a buzz word in the news right now. We hear the term "inclusive" in relation to gender, race, education and religion. But what about inclusion on the playground? This is a subject that needs to be in the public eye more.
Don't get me wrong, it's talked about - just not frequently enough. Primetime TV's hit show NCIS just recently put inclusive playgrounds in the spotlight with an episode (Season 15, Episode 6, "Trapped") that features the opening and supporting of an all-inclusive playground called "Inclusion Town". SPOILER ALERT: one of the main characters makes a surprising donation.
This is the kind of exposure we need to see more of. The importance of inclusion, and the importance of interaction between kids of all abilities, is often overlooked. A large part of children's development comes from the interaction they have with other children on the playground. Social interaction, physical activity, and cognitive functioning used while playing on the playground are all aspects that help children to develop into functioning adults and members of society. The learn how to carry themselves, how to problem solve, the rights and wrongs of social interaction, they learn teamwork, they get exercise, they master motor skills, and so much more.
When kids with disabilities are unable to participate in playground play due to a playground environment that isn't accessible and inclusive, they miss out on these key interactions and experiences that teach them how to function in life. They also miss out on the simple, necessary joy of being a kid and playing with their peers on the playground without feeling left out or different. No child should be deprived of that.
Likewise, normal children are also missing out by not getting to experience an inclusive playground.
Bringing attention to the need for inclusive playgrounds and providing the public with information necessary to educate themselves on the subject is the first step in the right (inclusive) direction.
Inclusive Playground planning doesn't have to be hard. Use our complimentary downloadable Inclusive Play Design Guidelines to make it simple, organized and stress-free. If you'd like more information on inclusive playground design and equipment feel free to contact us.