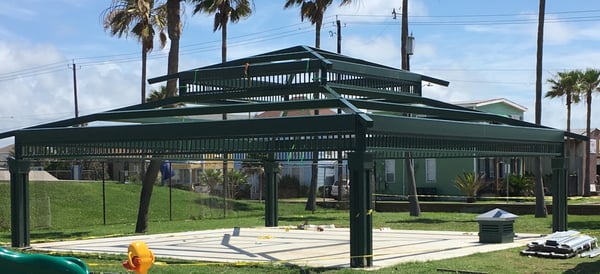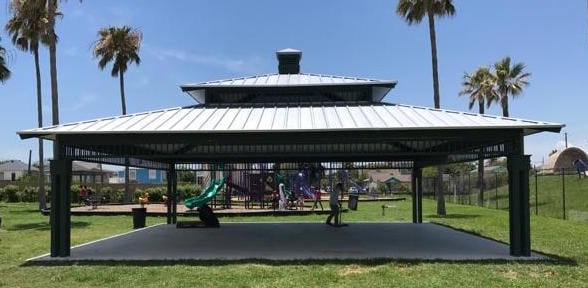 Steel Pavilion for City of Galveston
May Recreation had the opportunity of working with the City of Galveston to install a 36' x 36' Pavilion Shelter from Coverworx at Menard Park in Galveston.
A steel pavilion is a good addition to any outdoor space in Galveston – or any city in Texas, for that matter! In the great state of Texas, we have been known to have blazing summer heat and sunshine, rainstorms, hailstorms, sleetstorms, snowstorms, tornadoes, hurricanes and everything in between! These steel structures offer protection from harmful UV rays and storms – no matter what the season! Steel will hold up well against the different weather elements which maximizes the lifespan of the structure.
Here are some of the features of this particular pavilion:
Fully Vented Roof and Cupola for Air Circulation
Architectural Quad-Style Columns and Overhead Lattice for Visual Appeal
Sand-Blasted, Zinc-Primed, 4-6 mil Thick Polyester Powder-Coated Structure
High-Quality 24-Gauge Steel Panel Roof
Constructed to Offer No Possibility for Bird Nesting
Available in Several Different Styles and Colors
Steel pavilions have been used in park and playground design for a long time. They continue to be a favorite for architects as they provide a sturdy, shaded and weather-protected area at parks, playgrounds, sport courts and fields, picnic areas, schoolyards and other outdoor meeting places.
May Recreation offers a full line of pavilions of various sizes, materials and roof profiles, along with many other park and playground amenities. Visit our website to learn more about the products and services that we offer, or contact us today to discuss your specific park or playground needs.