Freestanding play equipment is a budget-friendly option for updating your playground. Instead of replacing the entire main play structure, you can add freestanding pieces around the play area, refreshing it without spending too much money.
Often people focus on the main playground structure and forget that the smaller, freestanding pieces are just as important.


When using playground equipment, children are not only having fun, but participating in physical activities that are good for their health and development. Every piece of equipment on the playground aids in children's developmental processes.
Here are some examples of freestanding pieces and the benefit that they bring to children's development:
Ten Spin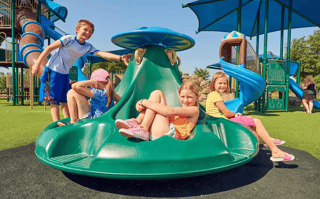 Built to accommodate up to 10 kids at once, this freestanding play piece is inclusive, allowing children of all abilities to join in the fun by either sitting, kneeling or standing. The rotary movement of the Ten Spin supports balance development in children. The cozy cocoon-shaped seats offer postural support, providing helpful boundaries for children who need help recognizing and adjusting the position of their bodies. These are essential sensory experiences that support child development.
JAX Pack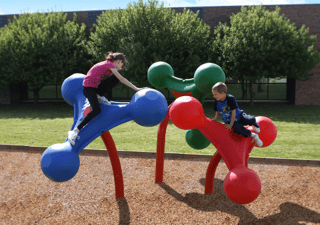 The JAX Pack is a structure that's built to resemble a giant set of the somewhat retro children's game of Jacks. This piece of freestanding play equipment promotes development through climbing. When kids climb, they are learning spatial awareness (being aware of their bodies and the surrounding objects in any given space) and directional awareness (understanding the concepts of up/down, left/right, forward/backward). Climbing also impacts a child's motor skills, memory and cognitive functions (problem-solving skills.)

Swings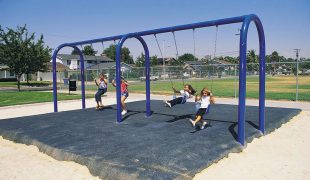 Swinging allows kids to develop coordinated movements. The coordinated movements that make up swinging are something that children have to develop on their own, from experience. Swinging helps develop a child's coordination, core muscle strength, balance, gross and fine motor skills, sensory integration (how your brain organizes and interprets information) and it stimulates the brain's cerebral cortex (the part of the brain that helps us focus). Who knew swinging was that important?!
Slides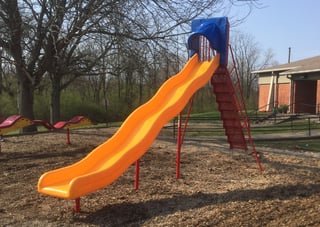 Slides help to promote balance and coordination, as well as spatial awareness when kids have to maneuver a landing at the end of the slide. Climbing to the top of the slide helps to increase their strength and flexibility. Sharing the slide with other kids on the playground hones social skills by teaching them how to interact with others and take turns. Plus, sliding is just plain fun!
Updating freestanding play equipment is an easy way to spruce up your playground and still leave room in your budget for other things — especially if you can catch them on sale!
Check out Miracle Recreation's Playground Sale going on now through December and add some value to your playground today!