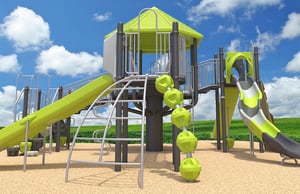 Are you thinking of building a playground but don't know where to start? Planning for a new playground can be intimidating and overwhelming. Understandably, most people don't know where to start. It's easy enough to pick out playground equipment that you like, but there are many other aspect of the project that people don't initially think about.
Where to Start?
When building a playground, it's important to partner with an industry expert. There are so many factors and decisions involved, you'll want to work with someone who has years of experience and expert knowledge with different equipment.
A trusted expert can answer questions, provide information, make recommendations, and help guide you through the process. Consider things such as a company's reputation, years in business, relationship with their vendors, and previous projects. Look for testimonials or case studies, and don't hesitate to ask for references. You want to work with someone you are comfortable with and has your best interests at heart.
If you can, it's beneficial and convenient to hire a company who does everything in house. That will take a lot of the leg work out of it for you. Only having to seek out one company and then they do all the heavy lifting, versus having to find several individual companies and then interact/coordinate between them.
Here are some things to look for in a playground company:
Reviews and References: You want a company who is transparent and has nothing to hide. Ask for references and search online for reviews.
Project Design: Find a company that has a project design team that will help you design the perfect playground for your space and needs.
Fundraising: Some companies offer fundraising options to help you and your school or organization raise money for that much-needed playground!
CAD Design: Use a company that has the latest tools in computer-aided design to assist in creation of the perfect playground regardless of the size!
Installation: Having expert installers to install your playground with the latest safety standards is necessary.
Check out May Recreation's Free Playground Planning Guide - it can be a great resource for you. It provides helpful information and tips for every stage of the process, from initial research to design, installation and maintenance.
Download the guide today, compliments of May Recreation, and you'll be one step closer to making your vision a reality.