Building a playground, whether at a school, park, church, apartment complex or other location is a major project full of choices and decisions. These days there are so many cool structures, designs and ways to customize playgrounds that the options are almost limitless. Which is all great news, but it can also leave you wondering, "Where do I even start?"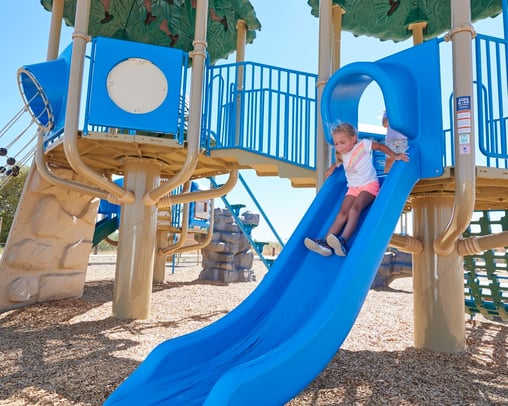 If you're in the initial stages of planning a playground, especially if you've never been through the process before, you might be a little overwhelmed. Perhaps you're asking yourself questions such as:
What type of equipment is best for my needs?
Should I incorporate a custom theme?
What type of surfacing should we use?
What about shade?
How many benches and tables do we need?
What about safety features?
And permits?
Drainage issues?
How can I make it inclusive so that children of all abilities can play?
How long does this process take, anyway?
Once it's built, what about maintenance?
And that's just a start!
We're also going to go out on a limb here and guess that you don't have an endless budget?? Just a hunch, because we've yet to hear a client say, "Sky's the limit! Go crazy, we don't care about the cost!"
Budget is deciding factor in any major project, and playgrounds are no exceptions. Which is why it is important to partner with a professional that can help you create a playground that best meets you needs, space and budget while exceeding your expectations.
If any of the above questions sound familiar, then May Recreation's Free Playground Planning Guide can be a great resource for you. It provides helpful information and tips for every stage of the process, from initial research to design, installation and maintenance.
Download the guide today, compliments of May Recreation, and you'll be one step closer to making your vision a reality.