Everyday the world continues to evolve into an even more fast paced and more diverse environment than it was the day before, and we expect our surroundings to be adaptive enough to accommodate our evolving needs—otherwise we begin to look for the next big thing to help us on our quest to happiness. The playground is much more than an open yard where the kids can run around and play. The modern playground is a curated space of equipment that is a reflection of the community it serves.
Gone are the days when playgrounds could be installed in a neighborhood with a one-size-fits-all approach. The modern playground is customized to the feel of the neighborhood, often with one-of-a-kind features and additional benefits that will allow the playground to serve children of all age ranges and abilities.
If you are in the planning stages of considering what type of playground to feature in your area, you want to take into consideration the aesthetic expectations of your community, as well as the many varied needs of the children in your area. Installing a playground that does not appropriately meet the needs of your community or that is not in line with the social and aesthetic desires of your community could end with you facing a lot of community backlash, which could result in a pricey mistake and upset community members, rather than happy kids with a new place to play.
Destination Playgrounds
While convenience and location are certainly leading factors in determining what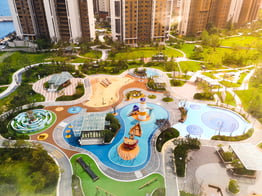 playground parents are likely to take their kids to any given day of a week, there are other factors that will often be taken into consideration that will make a big park stick out as an option for special occasions. This is what we refer to as a destination playground—the playground that you set out to as a point on your errands, someplace that you are intentionally deciding to go to when you leave your house. Since the pandemic has begun many people have been looking for safe and creative outdoor spaces to bring their children to, and destination playgrounds are at the top of the list. You can turn your park into a destination playground by picking a contemporary theme and adding a focal piece that can draw in a crowd and add a bit of excitement and pizzazz.
Here are a few examples of playground enhancements that you may want to consider adding to draw in more of a crowd.
Add a creative play focal piece that goes with the theme. This might include things like:
A pirate ship that is made out of wood, includes stairs that kids can climb up and down and maybe even includes ropes that kids can swing across from one plank to another.
A castle that could include a drawbridge and towers where kids can climb up and down spiral stairways and hide in the passages.
A train, with different train cars and train tracks. Some train tracks on the ground to climb on would help with the creative play here as well.
A fire truck or boat that kids can pretend to drive. Including a steering wheel is a great touch as kids can get into character as they get behind the wheel
Large scale themed playgrounds like this are great resources for kids in the community as they provide a place for kids to use their imaginations and have adventures without having to expose them to the risks associated with so much travel.
When designing the playground, it is important to keep in mind the need of all children. Make sure that the playground is ADA compliant and so can fit children who may need assistance from walkers or wheel chairs. It is also important to make sure that the equipment itself is adaptive to children's needs, whether that means being cognizant of options in ladder sizing, giving different options in the texture of the play equipment, or ensuring that there are different options in the size and structure of slides—such as having both covered and non-covered options available so that children who have special needs are still comfortable when they are there to play.