If your school has designed and built an amazing playground, accessible to all ages and abilities, then the reward is the smiling faces of students as they play on it.
And while it can truly take a Herculean effort sometimes to see a playground project come to fruition from funding to installation, the work is by no means done.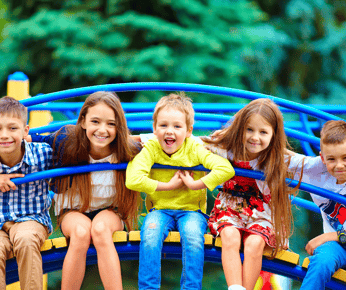 To protect your students, and your investment, your school playground equipment and surrounding area needs proper maintenance performed regularly by staff.
"According to the Consumer Product Safety Commission, each year, more than 200,000 children ages 14 and younger go to U.S. hospital emergency departments with injuries associated with playground equipment. More than 20,000 of these children are treated for a traumatic brain injury, including concussion," says the National Safety Council.
Schools can help lessen the risk of playground injury with routine maintenance.
Maintenance a Key Part of S.A.F.E. Playgrounds
The University of Northern Iowa's National Program for Playground Safety (NPPS) has created a S.A.F.E. Framework to keep kids healthy.
"Playgrounds are inherently safe spaces for children. They are a hub for child play, fun for families, enjoyment with friends, and places for communities to come together," says the NPPS. "However, these places are also locations where unintentional injuries occur and recent research has shown playgrounds are places where children are exposed to hazards."
Playground maintenance is one of the four keys to the S.A.F.E. injury prevention framework:
S: Supervision




A: Appropriate Environments




F: Fall Surfacing




E: Equipment Maintenance
How to Organize Your School Playground Maintenance
From the classroom to the cafeteria schools are all about organization and playground maintenance should be no exception.
The pros at Miracle Recreation suggest that schools do the following:
Put Someone in Charge of Maintenance: When playground maintenance oversight is not assigned, it may fall through the cracks. Playground maintenance can be supervised by an administrator, staff member or committee. Duties can be assigned to teachers, aides, staff, parent volunteers or even outsourced to a third-party.
Equipment Should be Installed and Inspected by Certified Professionals: Older playgrounds should have periodic inspections by certified playground professionals and new equipment should always be installed by certified professionals.
Protect the Playground: Fencing and other protective barriers can help keep your school playground safe from non-students who may mistreat or damage the equipment and playground area. Alarms or cameras can help reduce vandalism-related maintenance.
Create a Reporting System: Set up a reporting system where teachers, students or parents can report issues with the playground that they see. The reporting system could be a simple as a clipboard hanging in a school hallway or near the playground or could be an online reporting form.
Read and Understand Equipment Manuals: The manuals that came with your playground equipment will provide the basis for different types and frequency of maintenance for each item. Reach out to the playground manufacturer with any specific questions or issues.
Shade Structures = Preventative Maintenance: Shade structures can help prevent maintenance and repairs by protecting the equipment from the wear and tear of the sun. Also, those harmful UV rays can also cause equipment to heat up, leading to injuries to students.
Creating a Customized Playground Maintenance Checklist
Organize your school playground maintenance by creating a customized checklist that can be used by staff for daily routine inspections.
For safety reasons, a school playground should always be checked each morning before students can play on it.
A customized playground maintenance checklist could be broken down into equipment issues and natural hazards.
Under equipment concerns, check for:
Broken equipment

Hidden dangers in sand box and/or mulch areas

Litter and debris on the playground

Loose or warn equipment parts

Surface for tripping hazards or loose areas

Vandalism or other signs of playground misuse
Under natural hazards, check for:
Ant hills

Beehives or wasps nests

Exposed tree roots or other foliage hazards

Loose rocks or stones

Low-hanging tree branches with sharp edges or loose tree branches higher up that could potentially fall in wind

Standing water or other drainage issues
Keeping Your School Playground Clean
Many schools shut down when the COVID-19 pandemic started but almost all of them have welcomed students back.
School Playgrounds, like all touch surfaces in schools, have been under increased cleaning scrutiny.
The CDC recommends that:
Spraying cleaning products or disinfectants in outdoor areas – such as on sidewalks, roads, or groundcover – is not necessary, effective, or recommended.




High-touch surfaces made of plastic or metal, such as grab bars, play structures, and railings, should be cleaned regularly.




Cleaning and disinfection of wooden surfaces (such as wood play structures, benches, tables) or groundcovers (such as mulch and sand) is not recommended.
Set up a three-prong cleaning schedule for your school playground:
Regular daily cleaning of all touch surfaces

Periodic deep cleaning (summer or during school breaks perhaps)

Disinfecting as needed. If there has been illness or incidents among students using the playground involving body fluid, then the playground should be shut down until disinfected
Contact May Recreation Equipment & Design today to find out how we can provide your school with a safe playground for your students.
References
https://www.nsc.org/home-safety/safety-topics/child-safety/playgrounds
https://www.playgroundsafety.org/safe/framework
https://www.miracle-recreation.com/blog/maintenance-tips-for-school-playgrounds/