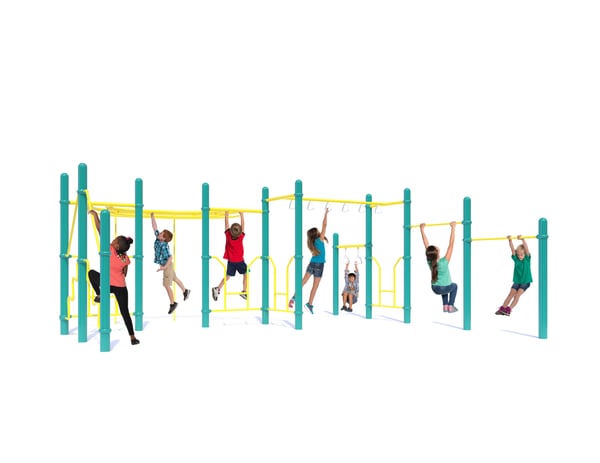 Anyone who's been around a kid knows that most of them are naturally full of energy and always moving, so physical activity is not usually a concern with younger kids. However, as kids get older, it can become more and more challenging to keep up the level of physical activity needed daily. The burden of school, lack of confidence in sports, lack of a fitness role model and technology can all prevent older kids from getting the physical activity they need.
Fitness and Child Health
When children play on the playground at a young age, it helps model their future into a more active one by making physical activity a daily habit. Encouraging physical activity in children gives them a positive association with being active and helps to create a healthy habit that will carry through to adulthood.
Fitness, especially for kids, can be FUN! Miracle's Fitness Clusters combine fun playground elements with physically challenging fitness components. The Fitness Clusters help kids develop flexibility and cardiovascular health while building coordination, balance and endurance. These play structures are modern playground designs for ages 5 to 12.
Fitness Clusters playgrounds make fitness fun, keeping kids fit and healthy. Miracle Recreation's current Spring Sale has select Fitness Clusters, and other play equipment and accessories, on sale now through June 30, 2018 with free shipping on select orders.