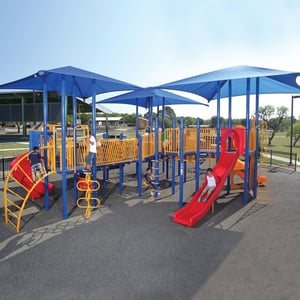 Shade structures protect both your playground equipment and your guests from the sizzling summer sun. And if you make the right choices, they look as cool as they feel.
Why are shade structures so important for outdoor recreational spaces?
The right fabric structure can block up to 96% of harmful UV rays and help prevent sunburns, heat exhaustion, sun allergies and other sun-related ailments.
Shade structures can make your playground up to 20 degrees cooler year-round, allowing for longer, more enjoyable play.
Shade can make your playground more inclusive. Some children and adults are more susceptible to sun poisoning and overheating due to certain medications, such as those commonly used to treat epilepsy, cerebral palsy and autism.
Shade structures help to protect the valuable investment you've made in playground equipment or any other assets from sun damage.
An endless array of choices in shade structures
Did you know that as a customer of May Recreation, you have access to the full product line of shade structures offered by both Miracle Recreation and USA Shade? When you're designing your playground, the options are unlimited when it comes to size, shape, color and configuration. Let your imagination run wild.
And if you don't see an existing design that's just right for your creative vision, no worries. Not only do we have access to a wide range of architectural shade structures, we can help you customize options. Our goal is for you to get exactly what you're looking for in a shade design.
A sampling of versatile, colorful shade structures
Whether your playground is located at a school, church, rec center or neighborhood park, you can be sure there's a shade structure with a shape, size and color scheme that fits your needs. A variety of fabric and post colors sure to match your playground equipment can bring the scene to life.
Bold fabric choices include zesty lime, electric purple and sunflower yellow. Durable powder-coat paint finishes, such as hot pink, chartreuse and tropical yellow, brighten any play area, even on dreary, overcast days. Miracle Play Shades require little to no maintenance and feature quick-release options (QRE) to facilitate easy fabric attachment and removal.
A few popular choices include:
The Single Post Pyramid shade covers up to 260 square feet from a single column. This structure is an ideal choice for providing shade in a limited space, such as over a picnic table or park bench.
When it's important to keep columns out of the shaded areas, choose cantilever designs. The Single Post Pyramid Cantilever shade can cover areas of 12, 14 or 16 square feet.
The Full Cantilever design is a great choice for shading large areas such as extensive play structures, seating areas, walkways or bleachers. The distinctive-looking Kyrene and Panorama models have curved arches.
Available in a variety of rectangular sizes, the Hip shade features clean, straight lines that complement modern architecture. Hip structures are great for shading large play structures. A slanted Hip is perfectly designed for shielding bleacher stands from sun at the baseball diamond.
The Pyramid shade is a four-post solution similar to the Hip structure but with a square, peaked roofline. It's available in a variety of sizes with an entry height of 12 feet. The Pyramid is easy to join together when covering extensive play structures.
When the outdoor space calls for a distinctive upscale design, the 20 or 30-foot square Mariner Pyramid features a multipanel, layered shade that creates a sophisticated presence. It's a great choice for shading an outdoor dining area.
Super Span can shade up to 90 feet of area, making it perfect for basketball courts. The six-column Hexagon and eight-column Octagon are great when you don't want obstruction from center columns, since the supports are on the structure's perimeter.
Want something truly unique to bring your playground to life? Check out the whimsical flower, butterfly or flying disc shade structures in the USA Shade catalog. You can also peruse our project portfolio to see the innovative ways we've used various shading designs in parks, playgrounds, churches and schools all around Texas.