When you think of playground surfacing, chances are you think of engineered wood fiber or "mulch" as it is commonly referred to...however, there a several other options available should you decide to try something different.
SYNTHETIC TURF
One of the options being used more and more of late, is a product known as Synthetic Turf. In general, this product is similar to what you now see being used in football stadiums around the US, but adapted to provide fall protection for playground use.
This product not only allows the client to achieve the fall protection that is required for a safe playground, it also provides a more natural look and feel.
SYNTHETIC TURF AND POUR-IN-PLACE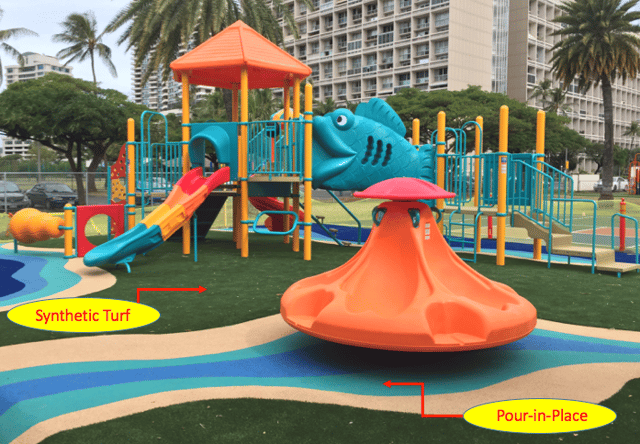 In addition, Synthetic Turf can be used in combination with Pour-in-Place rubberized surfacing to create a more artistic/architectural design while still maintaining a natural "clean" look!
While these products are "similar" to those being used for sporting venues, careful consideration must be given in the selection of any products used in your playground project...making sure they are designed for playground use and comply with industry standards.
Your May Recreation Team Member can help guide you in selecting your playground protective surfacing along with any additional items you want to incorporate in your project design...please contact us for a consultation!