Whether you're a proactive neighborhood resident browsing for information, an employee at a development company or on the playground planning committee at your kid's school, you've probably come to the same conclusion -- building a new playground is no easy feat!

These days, there are so many available options - colors, styles, ground covering, shade, budget, etc. - that the choices seem limitless (although your budget most certainly is not!). So where do you even start?

The very first step we recommend when building a playground (also outlined in our Playground Planning Guide) is to simply gather information. Before taking action or making any decisions, do your research and ask questions.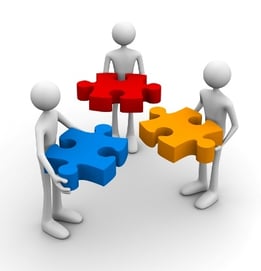 Five Ways to Gather Playground Information
If you're unsure of the best ways to gather playground information, here are five helpful ways:
Site Visits – If you visited a playground that you loved, even if it was in another city or state, make note of it. What did you like about it? Was it the play structure itself? The fact that it was shaded? The accessories? Snap a picture for reference, or jot down the name so you can refer to it later.
Referrals – As with most industries, referrals in the playground business go a long way. Try to speak with someone who just went through the process. Ask for their feedback. What did they like best? Is there anything they would do differently? Would they recommend the vendor(s) they worked with?
Online – Browse pictures online to get an idea of what you like/don't like. Some elaborate structures may be way out of your budget, but even so you can focus in on specific elements and incorporate those into your playground.
Gather Input from Key Stakeholders – Sure, if you ask 15 parents what they'd like to see in their school's new playground it's entirely possible that you'll get 15 different answers! Ask anyway. It's important to gather ideas and seek feedback from key stakeholders, whether that's parents, church members or neighborhood residents, so you know what's important. You'll be able to narrow down the top priorities, address those and work within your budget to bring your vision to life.
Equipment Catalogs – Browsing an equipment catalog is a great way to get an idea of the latest and greatest products available. Many vendor catalogs are available online, or for those who miss the Sears catalog and want to flip through real paper (no judgment, we get it!) we are happy to send you a complimentary hard copy of any of our vendors' catalogs.
Hopefully these tips will help get you excited about the possibilities with your playground. For more information and detailed information on every step of the playground building process, download our complimentary Playground Planning guide.