It's fall.
Here in Texas, that statement sounds more like a question (it's fall?), because it sure feels more like summer. But we're stubborn, and nothing can stop us from enjoying our Friday night lights and pumpkin spice lattes.
Nope, we love fall, and this year we have yet another reason to celebrate:
From now through the end of the year, select Miracle Recreation structures and accessories are discounted up to 40% off. In addition, all First Team soccer goals are on sale for 15% off list price.
On top of the substantial savings, we're offering FREE FREIGHT on orders over $5,000.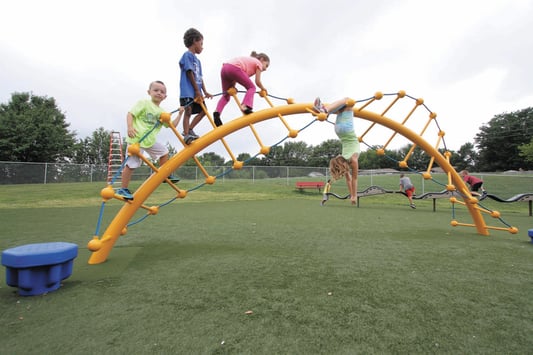 Save over $1,000 on this DNA Climber and many more structures and accessories
Benefits of Ordering By The End of the Year
If you're considering installing or upgrading a playground now is the perfect time to do it. Not only can you take advantage of the discounted prices and free freight, but ordering soon allows you to work the cost into your 2016 budget (especially helpful if you work with a "use it or lose it" discretionary budget).
If you're planning for a school, the timing allows you to schedule installation during student breaks, such as Thanksgiving or Winter holidays, eliminating any potential disruptions.
Our fall sale includes many products and accessories, from large climbing structures to tables, sports equipment, shade fixtures and more. For additional information, including a promo code and Miracle Recreation's complete fall sale guide view our Fall Playground Sale page.
Feel free to contact us directly with any questions or to place your order.
In the meantime, we're crossing our fingers that sweater weather comes soon.
*Conditions of Sale: Must not be combined with any other offer. Orders must be received by December 31, 2016 and shipped by January 15, 2017. Pricing does not include tax, installation or safety surfacing costs. Free shipping is available for orders over $5,000. Offer valid only in the May Recreation Equipment & Design, LP Texas geographic territory.