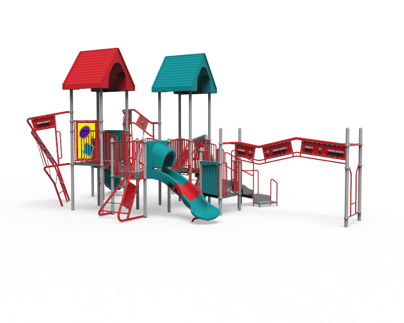 Whether you're looking for an overhead event, deck to deck units, or ground to deck climbers, you'll find what you're looking for with these bold play elements. Inspired by roller coasters, these modular climbers will bring a variety of play types, thrilling visual appeal, and unique climbing challenges to any play space.
Upstop Climber - 692-25
In roller coaster terms, an upstop wheel helps keep coasters on their tracks. Just like its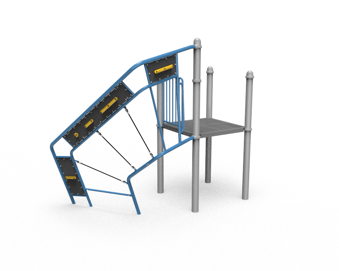 namesake, the Upstop Climber keeps children climbing on track with sturdy handgrips as they ascend from ground to deck. Upstop Climber is angled to provide various levels of challenge and can connect to a 5' deck.
Shuttle Climber - 692-14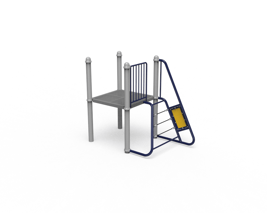 Inspired by air-defying roller coasters, Shuttle Climber has a combination of rope and steel rungs for varied climbing challenge. Shuttle Climber's open design allows a caretaker to assist from one side. It connects to a 4' deck height while adding a bold splash of color to your play space.
Airtime Climber - 692-425
Bring the thrill of airtime to your play space with Miracle Recreation's Airtime Climber! Inspired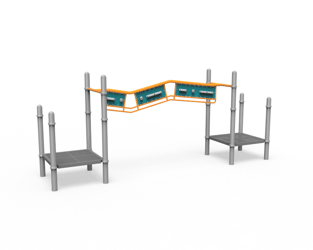 by roller coasters, this climber crosses monkey bars with pivot motion for an innovative, new way to hang out. Airtime Climber has a grip rung for easier crossings and handholds for a challenge.
Terrain Climber - 692-3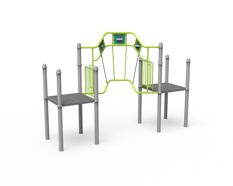 Just like a roller coaster, Terrain Climber is full of twists and turns! Terrain Climber has an 8-foot span and attaches from from post to post ranging from 6" all the way up to a 6'6" deck height. With a unique look, the Terrain Climber will bring thrilling climbing challenge to your playground.
Inversion Climber - 692-55
Inversion Climber defies gravity for a roller-coaster-inspired climbing challenge fit for the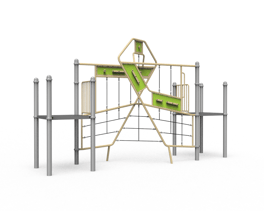 boldest thrill-seekers! The Inversion Climber's 12-foot span combines steel and rope for both static and responsive climbing experiences. Kids can walk across the rope using handholds for balance, or start from the ground up with Inversion Climber's ground-level access.
To learn more about Miracle products please contact us to discuss!