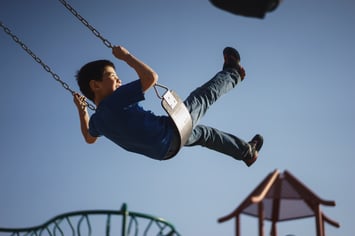 We talk a lot about the importance of playing on the playground for children. Playing on the playground plays a vital role in the development of a child, it provides them with a healthy dose of vitamin C, it's a great form of exercise, it helps them learn social skills and it's just plain FUN.
There is, for lack of a better word, a movement called Childhood Unplugged, that was established by a group of photographers in 2013 who are "committed to making a conscious effort to encourage their children to get back to the art of play" by unplugging from technology and indulging in play the old-fashioned way. A quote by Fred Rogers graces their website:
"Play is often talked about as if it were a relief from serious learning. But for children play is serious learning. Play is really the work of childhood." - Fred Rogers
This quote beautifully sums up the importance of children unplugging and indulging in good, old-fashioned play. It's not just fun and games — it's critical for physical, emotional and cognitive development of a child. Playing on the playground teaches kids the fundamentals and skills needed to help them grow into a functioning adult. It teaches them to love physical activity, leading to healthier habits and an overall healthier lifestyle. It allows them to be creative, explore, problem-solve, socialize, appreciate nature and to be challenged physically and mentally.
We're not suggesting you make your children unplug forever; technology is unavoidable in this day and age, and children are our future, so they need to be tech-savvy. However, we are suggesting that you make sure they their screen time is balanced with essential, old-fashioned playtime.
Get your kids to the playground now and thank yourself later!