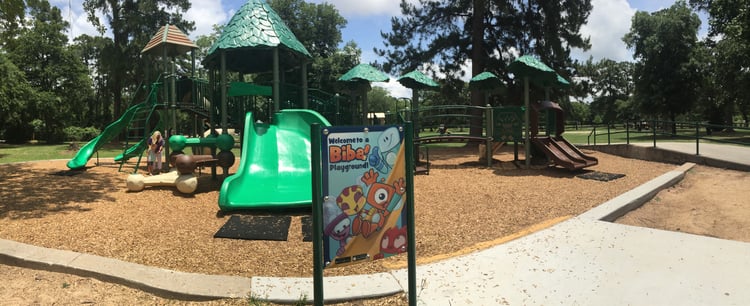 May Recreation is honored to have been part of the installation of the first smart playground in Harris County, Burroughs Park. Located in Tomball, Burroughs Park is one of only 200 smart playgrounds in all of North America.
Smart Playgrounds
Smart playgrounds are designed to give parents and children alike more ways to balance out digital gameplay with physical, active play. Biba Technology uses free downloadable apps that interact with augmented-reality markers installed throughout the playground. These markers are used to unlock new content during the course of the game, keeping the players involved and entertained. Download, scan and play – it's as easy as that!
There are several different Biba game options to cater to different interests. They range from treasure hunts and imaginary quests to obstacle courses and team challenges. The new "smart" generation of playgrounds allows children to enjoy digital gameplay without sacrificing the healthy, active, social play that helps structure their physical, mental and social development.
Biba gameplay promotes social play and interaction with just enough technology immersion to keep the kids captivated. Not only does it promote social interaction and teamwork with peers, but it involves the parent, teacher or caregiver in the gameplay as well, opening up communication and creating the opportunity for adult and child to connect and bond.
Biba technology also has an analytical element that proves beneficial to the proprietors of the park. Biba provides data on the behind-the-scenes functioning of the park – insights to play patterns like how weather affects attendance, what time of day is most popular, day-to-day demographics, and more. All this data is collected and can be analyzed to improve the functionality of the park and help you decide where your budget can be most effectively spent to make improvements.
If you're in the area, check out Burroughs Park at 9738 Hufsmith Road in Tomball and see what all a smart playground has to offer you and your kids – we promise you won't be disappointed!
For more information on smart playgrounds, visit the May Recreation website or contact us today. We would love to help you start planning for a smart playground in your community.