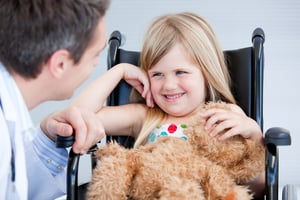 If you ever read our blogs, you know that we are BIG on the importance and impact of playground interaction/play on children's development.
People with typical kids usually don't think twice about this. After all, their kids get recess every day at school. They go to the park and play on the playground on the weekends. They get plenty of playground interaction, right?
Inclusivity and Playgrounds
But what about kids who are not typical? What about kids who live with brain injuries, physical disabilities or any other condition or disease that affects their ability to play on a normal playground? Recess is much more restricted for them considering they can't play on a majority of the typical playground equipment. This means that they get less physical activity and less interaction with other children, which means they aren't getting everything they need developmentally to grow into normally functioning adults.
We want to take a minute to remind everyone about the importance of inclusive playgrounds for kids with brain injuries — or any other condition or disease that affects their ability to interact in day-to-day life.
All-inclusive playgrounds allow kids with different levels of physical abilities to interact on the same level as typical kids who have full physical abilities. They also offer therapists, teachers, parents and caregivers the ability to move freely around the playground and use playground activities to help and interact with their patient/student/child/charge. Inclusive playgrounds can provide therapy opportunities in a fun environment, so that it doesn't seem so much like therapy.
Inclusive playgrounds also give children with disabilities the opportunity to reap the benefits of playing and interacting on the playground on a normal basis. Plus, they provide these kids with a large, fun and simple part of childhood — playing on the playground with their peers — instead of having to sit back and watch their friends have fun while they are unable to join in.
Brain injuries can present a person or family with many physical, emotional and financial hurdles. Playgrounds and social interaction may seem low on the list of priorities, but they shouldn't be; they allow children to have an interactive rehabilitation. It allows them to play independently, recaptures part of their original lives and allows kids to just be kids for a short time.
If you'd like to learn more about Inclusive Playgrounds or to discuss designing one in your community, feel free to contact us today.