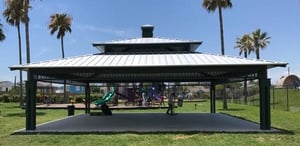 Protecting outdoor spaces can allow people of all ages to enjoy recreational activities, athletes to participate in sporting events, allow businesses to provide products and services, and offer other amazing benefits. In addition to warding off the rain, a shade structure also provides important protection from the hot sun and damaging effects of the ultraviolet light. Here are some great places where you can use a shade structure.
Pool Areas
Residential, commercial and public pool spaces provide places where people can lounge on chairs or get a drink from a wet bar. Placing a shade structure over the lounge area or bar allows people to relax without getting sunburned. The shade structure can be large enough to cover the entire poolside area, or there can be smaller, individual shades for more intimate and private spots for people to lounge by themselves to sunbathe, nap or read a book.
Playgrounds
Playgrounds are perfect places where small children can play safely on slides, climbing bars and swings. However, the metal and plastic on play equipment can become hot to the touch from the sun's rays, making it too uncomfortable for children to play on. A shade structure can prevent the playground's plastic and metal materials from absorbing the heat from the sun's rays, keeping the equipment cool to the touch. So the children can play all day even when the sun is high in the sky.
Outdoor Sports Courts
Basketball, tennis and volleyball courts allow residents to have fun and stay in shape. They also allow sports organizations to hold local, regional and national competitions. A shade structure can add enormous benefits to outdoor sports courts. Players won't become blinded by the sun while engaging in the sporting event. Meanwhile, spectators can be cool and comfortable underneath the shade structure as they will stay longer to watch the entire game.
Car Dealerships
Since potential car buyers could spend several hours looking at vehicles that they may want to purchase, having a shade structure can make it more comfortable for buyers to look over vehicles without getting too hot and sweaty from the sun. In addition, car dealerships can also use a shade structure in their marketing strategies. By placing their more popular vehicles underneath strategically placed shade structures, people will flock to those places and stay under the shade longer, giving the dealer more of an opportunity to put their selling skills to great use.
Convention Centers
Many convention centers will hold outdoor events and trade fairs for businesses and the general public. A shade structure covering the convention booths can block the sun and wind as people move from booth to booth talking with fair attendees, checking out products and signing up for more information. In addition, a shade structure can also be used for outdoor concert areas and outdoor theaters.
Schools
Schools may also invest in an outdoor shade structures, placing them over playgrounds and sports courts. A school can also consider using a shade structure when for outdoor fundraising events such as bake sales and book fairs.
If you have an outdoor space that could be improved by having a bit more shade, consider a shade structure from May Recreation. Contact us today to learn more about our shade products and configurations.