Some dog lovers might argue that all you need for a good dog park is dogs. No one would argue. However, you can always make things more fun at your own dog park. Whether you run a local community dog park, or you are adding some special features to your backyard dog park, there are several ways to add joy to your canine oasis.
Try a few of these four pieces of fun and functional recreational equipment to ramp up the amusement for your dogs.
1. Dog House or Protective Shelter
For long afternoons of bounding all over the park or yard, dogs need a spot to escape the heat, sunlight or downpour to enjoy a drink of water and a brief break. Provide adequate shade and shelter for any dogs on the premises to keep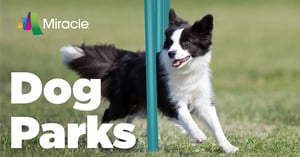 everyone rested and ready for action. If your carpenter skills are sharp, you might try building a dog shelter, especially if you have a specific architectural style in mind. There are also plenty of dog houses for sale to suit every need and preferences, such as size and indoor features like a bed.
2. Drink Bowl or Fountain
Hydrated dogs are happy dogs, so make sure you provide a bounty of H2O for the dogs in your area. Set out a generous bowl of fresh, clean and cool water. You can always crank things up a notch and invest in a drinking fountain that provides a fresh supply of running water where your dogs can play and drink as much as they like.
3. Doggie Wading Pool
Anyone who has watched a dog hop in a local pond or the kids' small swimming pool knows how much they love it. Those hot summer days can feel a lot cooler when your dogs can take a dip in crisp, clear water any time they choose. Consider a few essential features and specifications for your dog pool:
Durable
Portable
Easy-to-use and easy-to-store
The right size and depth for the number and size of dogs
Slip prevention
Fun shape, such as a bone
4. Obstacle and Fitness Course
Although your dogs can probably bound endlessly without a toy or obstacle feature in the vicinity, it doesn't hurt to add some exciting new challenges to your dog park. Explore some top dog park equipment ideas:
Dog Walk Ramp. A dog walk ramp is a simple, classic favorite for pups of all ages and sizes, helping to build confidence and balance in dogs. It also gives you a chance to do some basic training exercises in a controlled and comfortable environment. Let your dog practice walking across and back, pausing, sitting, turning around and jumping off.
Dog Steppers. Dog steppers add some serious agility training for pets, helping to develop balance and body positioning in an uncertain space.
Dog Crawl Tunnels. Your dogs may think dog tunnels give them a chance to hide, thinking they are "out-of-sight and out-of-mind" for you. Dog crawl tunnels let you reinforce the need for obedience, even when they are hiding in a tunnel. The uneven surface also lets them practice agility and balance.
Let Us Help You Build the Perfect Dog Park!
If you need more ideas when building your ideal dog playground, park or adventure zone, we want to help! Visit the Catalogs page of our website to view our whole Miracle Recreation Dog Park Equipment catalog. Contact us to learn about more products to help keep the dogs in your life active, healthy and happy.