Getting your playground project up and running requires funding from donors in one form or another. If you are struggling with finding ways to engage with donors, consider the following four methods. Each one requires its own unique set of processes to implement, but they are all equally powerful ways to fund your playground project.
1. Grant Applications
Grant applications remain a very effective way to finance your playground project. There are several keys to obtaining grants. The first is to carefully review qualifications of the grant so you don't waste resources applying where your organization doesn't qualify. The second and most important step is to thoroughly adhere to the grant giver's guidelines. In most cases, failure to properly follow instructions will result in a denial. Finally, understand that the more detailed and thorough your answers, the more the grant giver will understand your request, your needs and how you plan to use the funds. This will result in the best chances of having your grant application approved.
2. Personal Requests
Whenever possible, plan to meet in person with the donor or donor team. Face-to-face meetings will almost always result in a positive impression of your playground project. Personal requests enable you to put a face to the project and humanize the need for the playground project in your community. You'll be able to demonstrate your passion, commitment, expertise and previous experience in an environment that facilitates a personal connection. This is likely to get your donor invested in the project's success.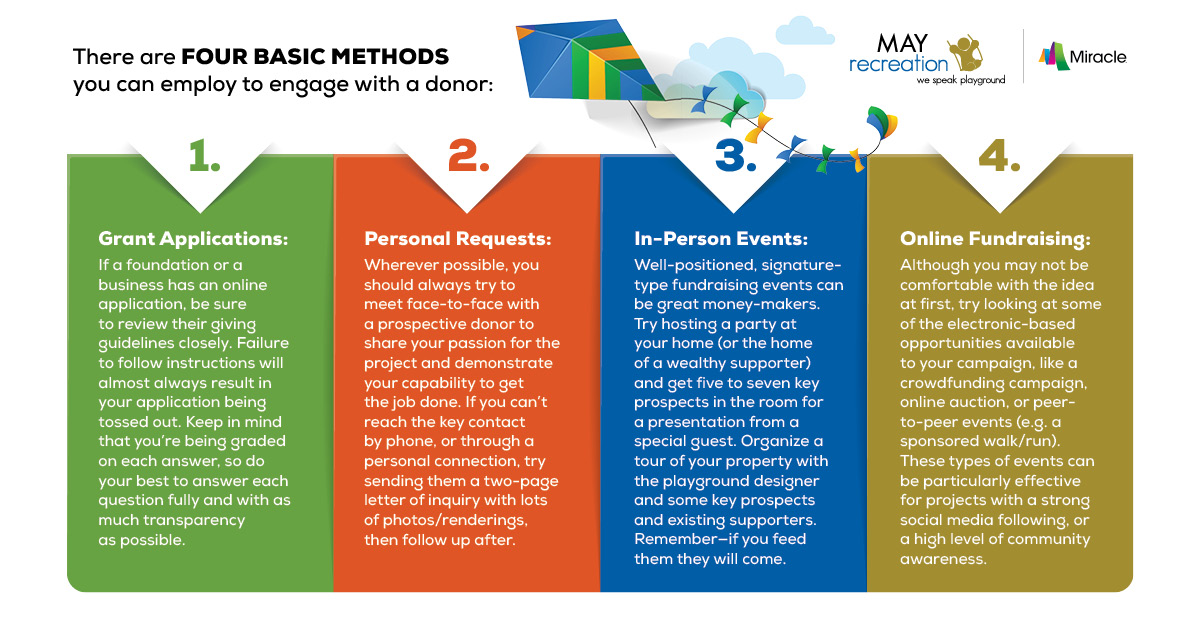 3. In-Person Events
In-person fundraising events have proven to be very lucrative for playground projects. When you host a well-thought-out fundraiser, you have an opportunity to showcase everything you envision for your playground project. Some ideas for engaging with donors at in-person events include:
Preparing a dynamic slideshow that highlights the benefits of outdoor play
Having the playground designer speak about their vision for the project
Giving a tour of the property where you want to do your playground project
As far as incentivizing donors, consider proven fund-raising techniques like holding a silent auction, a bidding auction or a paid-plate dinner or luncheon with a special guest such as a local celebrity.
4. Online Fundraising
Online fundraising is also an effective way to engage with donors for your playground project. There are various ways to hold an online fundraising event, such as an online auction, a crowdfunding campaign, peer-to-peer events and challenges and more. Online fundraising success is heightened when you have an experienced online fundraiser specialist or social media strategist to help you out. The online fundraiser specialist can help ensure that your online fundraising is in compliance with local and state ordinances, while the social media strategist can ensure that word gets out about your online event. Crowdfunding in particular responds well to a strong and wide social media reach. Be sure to take advantage of a wide range of social media channels, like Facebook, TikTok, Pinterest and Instagram. These days, you aren't limited to just one avenue for your online fundraising marketing.
As you can see, there are many avenues to success for funding your playground project. May Recreation is here to help support your fundraising efforts. If you would like more information or resources for putting together your fundraising marketing materials, please don't hesitate to contact us.