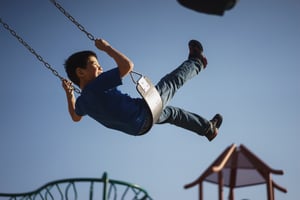 Sure they're fun to visit and beautiful to look at, but the benefits of your neighborhood's parks and playgrounds go far beyond their recreational and aesthetic features.
Here are 10 important contributions they make to your community's well-being.
1) Playgrounds provide multisensory experiences that help to build children's brains more quickly. Specific developmental skills that kids explore when at play include:
Sensory — Visual, auditory, tactile, vestibular
Motor — Fine (hands and fingers), agility, balance, endurance, muscle coordination, eye-hand coordination
Strength — Upper and lower body, core, cardiovascular
Cognitive — Problem solving, strategic planning, language, literacy
2) Play teaches children social skills: how to share fairly, to play cooperatively, and to collaborate as part of a group. Parks that employ the principles of inclusive playground design create a space that intentionally provides opportunities for every visitor to have a successful experience, regardless of age and abilities. These embracing play environments help kids learn to accept and tolerate differences while valuing diversity and demonstrating compassion.
3) Community parks and playgrounds provide great opportunities for parents to bond with children in a physically engaging way that shared digital or TV time can't.
4) Parks promote physical activity, a key factor in fighting America's obesity epidemic. Whether in the form of hiking trails, rec center classes, public pools or tennis and basketball courts, these natural locations encourage exercise and increased play.
5) Neighborhood playgrounds create a relaxed space in which residents can connect and interact. New friendships are formed, and a sense of community develops that's important for good mental health and a feeling of belonging.
6) A 2017 study from Clemson and North Carolina State researchers showed that parks and greenways could play an important role in reducing rates of violent, disorderly and property crime. Additionally, communities that keep basketball courts open late for "Midnight Basketball" programs experience a reduction in youth crime rates.
7) The trees in your community park help provide cleaner air and water for your neighborhood. The forests in Atlanta remove about 19 million pounds of air pollutants each year, according to the Georgia Forestry Commission (GFC). Air pollution has adverse effects on children, the elderly and anyone with allergies, asthma or other respiratory problems. Trees trap dust, ash, pollen and smoke from the air before it reaches your lungs. They also provide shade, which not only keeps you cooler, but also prevents pollutants in the air from becoming even more volatile, explains GFC. One acre of trees produces enough oxygen for 18 people every day!
8) Public parks are good for your local economy. The value of residential properties immediately adjacent to parks can increase as much as 20 percent, reports Lynchburg Parks and Recreation Department Director Jennifer Jones.
9) Parks and other natural areas provide habitats for many different forms of wildlife. Each park has its own ecosystem, and conserving and protecting this provides a much-needed safe place for creatures displaced by urban sprawl. It also introduces kids to the importance of environmental stewardship in helping to slow the escalating rate of species extinction.
10) Time in nature is a powerful mood-booster and mental-health tonic. Numerous studies show how valuable green spaces are for reducing stress and increasing happiness. Even just 10 minutes spent reading or contemplating in a park enhances your sense of wellness, lowers the stress hormone cortisol and strengthens your immune system.
Parks and playgrounds significantly improve the physical and mental health of a community's citizens of all ages, making them a cornerstone for improved quality of life.